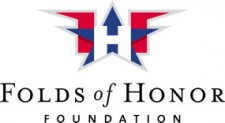 Golf Community's Impact Through Annual Patriot Golf Day Has Helped in Awarding More Than 3,800 Scholarships
OWASSO, Okla. – Patriot Golf Day, the primary fundraiser for Folds of Honor, raised a record $4.3 million in 2012, bringing the six-year total to more than $17 million raised for educational scholarships for the families of service members wounded or killed while serving their country. Folds of Honor is currently seeking educational scholarship applicants now through April 30.
More than one million dependents have been affected by the wars in Iraq and Afghanistan and 85 percent of them do not qualify for federal scholarship assistance. Folds of Honor, a 501(c)(3) charitable organization with a mission to empower deserving military families with support and opportunities, is helping fill that gap by providing educational scholarships for children and spouses of military service men and women killed or disabled while serving our great nation.
Folds of Honor scholarships can be used immediately or can be held with the Foundation on behalf of young children until their time of enrollment. For more information on eligibility and to apply, visit www.foldsofhonor.org/scholarships.
The scholarships can be used to subsidize the costs of tuition, school books, fees, room and board, special tools and equipment necessary for coursework, school-approved tutoring, and any other expense that the school in which the student is enrolled may deem appropriate and unmet.
Through these scholarships, Folds of Honor is able to present an ongoing tribute to our brave service members by ensuring that the families of fallen and wounded warriors have hope for the right educational start to life and best future possible.
"We're proud to provide scholarships to military families and encourage anyone who is eligible to apply," said Major Dan Rooney, Folds of Honor founder. "With these scholarships, we hope to provide the spouses and dependents of our wounded or fallen heroes with the support they need to realize their dreams."
Since its inception, Folds of Honor has awarded more than 3,800 educational scholarships. More information can be found at www.foldsofhonor.org.
About the Folds of Honor Foundation:
Major Dan Rooney, a PGA Professional, USGA member and former F-16 military pilot with the Oklahoma Air National Guard, founded the Folds of Honor Foundation in 2007 following his second of three tours of duty in Iraq. While a passenger on a commercial flight, Major Rooney witnessed an event that would profoundly change his life. As the plane landed, the pilot announced, "Ladies and gentlemen, we have an American hero on board – Corporal Brock Bucklin – and his twin brother, Corporal Brad Bucklin, is accompanying him home from Iraq. As a sign of respect, please remain seated while Corporal Bucklin's family receives him in his final homecoming." Major Rooney watched through the window of the plane as the flag-draped casket was lowered. He saw a family waiting for Brock, and a little four-year old boy waiting for his father. This tragic homecoming inspired Major Rooney to create the Folds of Honor Foundation. Mission partners of Folds of Honor include Anheuser-Busch, Budweiser, Titleist, Pinnacle, AHEAD Inc., Bushnell, Golf Channel, POLO Golf, Golf Pride, QuikTrip, The Christie Cookie Company, St. Andrews Products, Foot Joy, Bolle, Serengeti, Rocky Boots, Homewood Suites by Hilton, Academy of Country Music (ACM), CORT, World Class Fireworks and Stitch Golf.