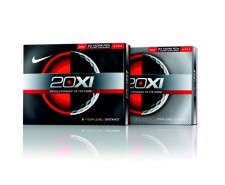 -More RZN results in a faster and more responsive golf ball –
BEAVERTON, Ore. (December 5, 2013) – Nike Golf made a bold statement when it first introduced a new innovation in its premium 20XI golf balls called RZN. The new proprietary RZN technology resulted in a lighter, faster and more responsive core that is engineered to produce longer distance and more controlled shots.
Nike Golf has taken this technology a step further by adding more RZN to its new 20XI ball, available on February 1st. With more RZN material added to the core and mantle of the golf ball, Nike Golf engineers have created an even faster engine for ultimate tour performance.
This larger, softer RZN core improves feel off all shots while maintaining driver distance. The added RZN mantel produces longer shots off irons while providing a softer short game feel. This combination of core size and mantle translates into two times more RZN material than the previous generation 20XI.
"The added RZN mantle provides faster speed off irons and, therefore, more distance," said Rock Ishii, Nike Golf's Product Development Director for golf balls. "Not only did we increase speed with 20XI, but we added softness for improved feel around the greens, creating a balanced tour model golf ball."
RZN technology accomplishes two critical performance components to maximize benefits from a golf ball: More distance off the tee and a more stable ball flight (especially in crosswinds).
Faster Ball Speed Equals Longer Distance
· Advancement in proprietary RZN chemistry delivers faster ball speed.
· Internal tests with Nike Golf tour athletes have shown an average of 2-3 mph increase in ball speed.
· Every 1 mph increase equates to 2-3 yards carry distance.
Highest Levels of MOI Provides More Consistent, Stable Ball Flight
· Lighter core and heavier outer layers result in perimeter weighting.
· High MOI assists in reducing driver spin and maintains spin beyond apex to maintain carry and control.
· 20XI has the highest levels of MOI in a golf ball to date.
The 20XI will be available in two versions, the 20XI and the 20XI X. While both balls deliver faster speed and high levels of MOI, the 20XI ball is designed to improved feel and enhanced short game control. 20XI X delivers maximum distance, improved feel and reduced spin for greater accuracy off the tee, making it the longest tour model Nike Golf has ever created.
Availability: February 1, 2013
MSRP: $58.00
Street Price: $45.99