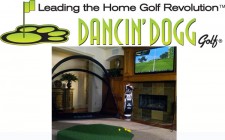 User Experience and Skills Development Enhancement by New Design, Navigation, Game Types, Practice Features, Putting Modes, Core Course and More
(TRAVERSE CITY, MI) – Dancin' Dogg Golf – maker of the award-winning OptiShot Infrared Simulator, the ultimate in-home virtual golf system – announces the launch of its next generation software package, highlighted by a completely redesigned user interface and enhanced graphics for an even more true-to-life experience.
Further expanding the horizons of affordable, accurate, in-home golf simulation, this latest system evolution includes a broad range of features that promote skills development. Standard with all new purchases and available via free, automatic download for current OptiShot users, it includes:
Pin-Point Practice Range: Improve ball control with accuracy lines, precision rings, shot patterning and progress tracking
Course Physics: Set fairway and green speeds or select shot difficulty in light rough, rough and bunkers
Game Types: Choose from alternate shot, match play, stroke play, best ball, better ball, Stableford and skins
Game Length: Play front nine, back nine, 18 holes or select any hole to create a custom game
Warwick Hills: Replication of the PGA Tour's Buick Open host site added to Core Course library
Languages: French-Canadian, French, Spanish, Japanese, Korean and Chinese
A sleek new design, easier-to-read data, improved navigation, variety of putting modes, custom display options and the ability to preview premium courses have also been added to the system. These combine to further distinguish OptiShot (MSRP: $399.95) from competing in-home simulators that can cost more than $50,000.
"It's perfect for us to add so many exciting new features just as the weather turns cold and the holiday shopping season begins," says Brandon Theophilus, CEO of Dancin' Dogg Golf. "Our team of in-house developers has really taken things to the next level, ensuring golfers of all abilities can play more often, have more fun and improve their skills without leaving home."
OptiShot connects with Windows computers via a plug-and-play interface and requires only 8-½ feet of swing space. With their own clubs, up to four players per round can compete by hitting real balls, foam balls (provided) or no ball at all. Infrared sensors on a durable swing pad precisely record club-head speed, face angle, swing path, distance, tempo, face contact and ball flight. In addition to Core courses that come with the system, OptiShot users can practice on a realistic driving range, compete using the par-3 option or purchase premium course replicas of world famous layouts.
More information: www.dancindogg.com, www.facebook.com/dancindogg, 866.941.3644.
About Dancin' Dogg Golf
Based in Traverse City, MI, Dancin' Dogg Golf was founded in 2005 and specializes in developing innovative technologies. Twice named to the prestigious Inc. 500 list as one of America's fastest-growing entrepreneurial companies, it has also been honored with the SCOREGolf Research & Development Award, named to the "Michigan 50 Companies to Watch" list and received a "Flyover 50 Award" as one of the Midwest's fastest-growing companies.
The Dancin' Dogg product range is highlighted by the OptiShot Infrared Golf Simulator, which is offered at nearly 2,000 retail locations throughout North America and a growing number of shops internationally. The company's ever-expanding library of world class courses includes sites of major championship, international competitions and Tour events.
Durable and built to last, OptiShot comes with a 180-day warranty and has been heralded by leading authorities worldwide, including Asian Golf Monthly, CNBC, Daily Mail, Discovery, Global Golf Post, Golf Channel, GOLF Magazine, Golf Monthly, Golfweek, Maxim, NBC Universal, Pro Shop Europe, SGB Golf, Sports Illustrated, Sports Business Journal, Sportfack, TheStreet.com, USA Today, WIRED and many others.