(MYRTLE BEACH, S.C.) — Mystical Golf — owner and operator of three acclaimed golf courses — announces its Witch Course was named the "Best Value" of the 100-plus layouts in the entire Myrtle Beach / Grand Strand area.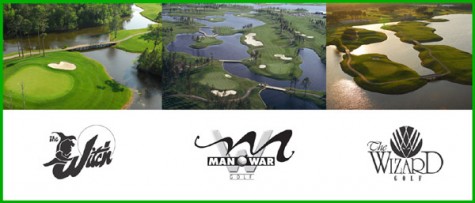 The Sun News – the daily newspaper of record for the area – polled local residents and visitors about their favorite area establishments for the annual "Best of the Beach" rankings. Categories included golf facilities, restaurants, business entities and attractions.
"The Witch is a special place to tee it up and we're thrilled to be honored with the first place award in The Sun News poll, especially given the large number of courses in the area," says Claude Pardue, President and CEO. "Our reputation as the best golf value on The Grand Strand is as important to us as providing great course maintenance and unrivaled customer service."
No stranger to regional and national acclaim, The Witch has also been named "Best Value" in Myrtle Beach by GOLF Magazine and awarded 4-1/2 stars by Golf Digest. Noted as the epitome of fun, strategic golf, the par-71, 6,769-yard Dan Maples design resides on 500 acres of tranquil cypress groves and teeming wetlands.
The Mystical Golf trio of layouts also includes Man-O-War — revered for its back-to-back island greens and water features touching every hole. With a commanding 141 slope rating, the par-72, 6,967-yard layout is offset by straight-forward shots and excellent, bent-grass greens.
Reminiscent of classic, wind-swept links courses in Scotland and Ireland, The Wizard completes the trifecta and presents deep bunkers, mound-framed fairways and dramatic elevation changes. Trademark stone bridges and an Old-World, castle-style clubhouse add character to the par-72, 6,721-yard shot-maker's course.
For Mystical Golf package information: www.mysticalgolf.com, 843.282.2977.
Getting There
The Witch, Man-O-War and The Wizard are in the heart of Myrtle Beach and within 15 minutes of Myrtle Beach International Airport (MYR), beaches, accommodations, restaurants and other attractions. A short distance from I-95 and other major thoroughfares, Mystical Golf courses are easily accessible. More than two dozen cities — including Atlanta, Boston, Chicago, Dallas, New York and Washington — offer direct flights.