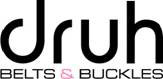 UK, November 2012: Druh Belts & Buckles is to supply the belts to the European Team to wear on course during The 2013 Solheim Cup when the biennial matches between Europe and the USA take place in next August at the Colorado Golf Club.
The appointment of Druh Belts as official supplier follows on from 2011 when Druh first supplied belts for the European Team when they won the event in such sensational style at Killeen Castle in Ireland.
As holders, the European Team will need 14 points to retain The Solheim Cup in the USA, with the U.S. Team needing 14½ points to regain the coveted Waterford Crystal prize. The U.S. team holds an 8-4 lead in the matches, which began in 1990.
Simon Hurd, founder of Druh Belts & Buckles, commented on the announcement, "Druh is delighted to be supplying its belts to the European Team for The 2013 Solheim Cup. The 2011 edition of this highly-competitive team competition proved to be one of the most exciting golfing tournaments that I have ever witnessed and Druh will once again be proud to accessorize the top female European golfers for the 2013 matches in the USA."
Said Marc Anderman, European Solheim Cup Manager, "We are thrilled to once again work with Druh Belts for The 2013 Solheim Cup. Simon and his team add the finishing touches on our complete "European" look and the team love wearing their customised belts and buckles during the event as they really stand out. Druh supplied the team belts when we won in Ireland in 2011 so we know we are guaranteed a first class service along with a quality product."
For more information on Druh Belts & Buckles go to www.dbbelts.com and on The Solheim Cup www.solheimcup.com