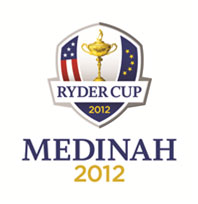 MEDINAH, Ill. – The PGA of America is inviting fans to participate in a "RED OUT" in support of the U.S. Ryder Cup team on Sunday, Sept. 30, the final day of the 39th Ryder Cup at Medinah (Ill.) Country Club.
Fans attending the Ryder Cup are encouraged to wear red clothing on Sunday at Medinah to show their patriotic pride, while fans watching from home are encouraged to the same. Regardless of where they are cheering from, fans are also invited to tweet photos of themselves dressed in red to @RyderCupTeamUSA on Twitter using the #13thMan hashtag.
The "RED OUT" movement is part of the PGA of America's "13th Man" initiative, which focuses on engaging U.S. golf fans and recognizing their incredible enthusiasm for the Ryder Cup.
"The Ryder Cup is beloved by fans around the world, and it's exciting and inspiring to see our U.S. fans come together in support of their team," said PGA of America President Allen Wronowski. "Fan engagement is what the PGA of America's commitment to growing the game of golf is all about, and there is no greater stage for golf than the Ryder Cup."
To become a "13th Man" or to learn more, visit www.RyderCup.com.
About the 2012 Ryder Cup
The Ryder Cup, among the last great professional sporting events where winning, and not prize money, is its own reward, spans 38 competitions over 85 years. The competition was born in 1927, when enterprising English seed merchant Samuel Ryder commissioned the casting of a gold trophy that bears his name. The U.S. Team defeated Great Britain, 9½ to 2½, in the inaugural matches in Worcester, Mass. The Ryder Cup, recognized as the pre-eminent international team event in golf, has since expanded to involve the finest players of Europe. The United States has posted 25 victories, Great Britain/Europe has won 11 times, and there have been two ties. Europe currently has possession of the Ryder Cup trophy, thanks to a thrilling 14½-13½ victory over the United States in October 2010 in Wales. The 39th Ryder Cup will be held Sept. 25-30 at Medinah (Ill.) Country Club.