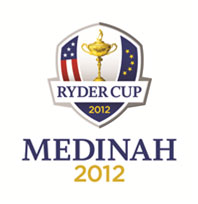 Rydercup.com to Serve as Online, Mobile and Social Destination for 2012 Ryder Cup with LIVE Streaming Video, Live Radio, Video Alerts and Tweet Battle
Turner Sports Launches New Rydercup.com Site; Offers Free Ryder Cup App for iPhone, iPad & iPod touch
Rydercup.com, managed by Turner Sports as part of PGA.com, will provide extensive online, mobile and social coverage during the 2012 Ryder Cup, the world's premier international team golf event.  From Friday, Sept. 28 to Sunday, Sept. 30, fans will have complete access to live streaming video, leaderboard updates, live radio, video alerts, social interaction and much more via the new Rydercup.com site, the Ryder Cup App for iPhone, iPad and iPod touch, and the mobile website.
The new Rydercup.com offers an enhanced user experience which brings extensive editorial coverage, video, radio and photo content to the forefront.  With increased back-end technology and a more interactive design, users can view the event through the eyes of their team while also being able to share information such as stats, video clips and photos.
The Webby Award-winning Ryder Cup LIVE video via Rydercup.com, and Ryder Cup apps will offer live streaming video from Medinah (Ill.) Country Club.  Ryder Cup LIVE video is the only online destination for three- day live coverage of the Ryder Cup.  Ryder Cup LIVE video also will include integrated content such as breaking news updates, a real-time leaderboard, "Predict It" – an interactive gaming experience – and social media integration.  Additionally, for the first time, Ryder Cup LIVE video will provide coverage of the opening and closing ceremonies.  The Ryder Cup LIVE video announce team includes host Brian Katrek, analysts Michael Breed, Billy Kratzert and TNT's Craig Sager as course reporter.
The Universal Ryder Cup App is available worldwide for iPhone, iPad and iPod touch. Throughout the event, the app will provide live video (select markets), live scoring, breaking news updates and video alerts. The Ryder Cup app is the first golf app available for iOS 6 and the new iPhone 5.  Additionally, users worldwide can listen to match updates and interviews through Ryder Cup Radio.
On the social front, Rydercup.com will offer a "Tweet Battle" between Team U.S.A. and Team Europe.  A "Social Scoreboard," online and at the course, will show which team is winning the global social conversation by counting the number of fans using the respective hashtags – #RyderCupUSA or #RyderCupEurope. Fans also can engage throughout the Ryder Cup competition across other social platforms including Facebook, GetGlue, Instagram, Viddy, Pinterest and Goggle+.
"For the 2012 Ryder Cup, fans will be invited to enjoy an immersive and interactive digital experience for the most prestigious international team event in golf," said Gary Treater, Turner Sports' senior director of business operations for PGA.com. "We will be the destination for fans worldwide – whether online or across mobile and social platforms – to be informed, entertained and engaged surrounding all things Ryder Cup."
Additional Ryder Cup content includes:
Online
Live Match Updates – PGA.com writers will provide live updates, share photos and video links through this interactive feature throughout the event.
Video Highlight Hub – An enhanced video experience will allow fans to search by player, match, hole or memorable moment from the 2012 Ryder Cup.
Predict It – While watching Ryder Cup LIVE video, fans have an opportunity to predict the outcome of situations on the course.
Mobile
iPad: For the first time, PGA.com is bringing its Ryder Cup app to iPad. The iPad viewing experience will include live video, live radio, video highlights, news articles, photo galleries, team details and more.
iPhone & iPod touch: This year's Ryder Cup App provides specific mobile content and features to enhance the on-site and on-the-go fan experience. Content includes: live video, live radio, text and video alerts, daily video highlights, latest stories and breaking news, team info and social feeds.
Mobile Website – In addition to Ryder Cup apps, the enhanced Rydercup.com mobile website will offer live video, on-demand highlights, live scoring and Ryder Cup radio available to smartphone users.
Social
13th Man – Off the course, the 13th Man is the social destination for the 39th Ryder Cup. This social hub will combine live action updates of the event and integration with Twitter, Facebook and Instagram.
Social Scoreboard/Tweet Battle – Powered by Mass Relevance, the real-time "Social Scoreboard" captures which teams and players are most popular in the social sphere. Tweet Battle, also powered by Mass Relevance, allows fans to engage in a friendly competition for their team.
#RyderCup – Fans can send a tweet using #RyderCup to join the conversation and support their favorite player.
PGA.com is the official site of The PGA of America operated by Turner Sports, and Rydercup.com and the Ryder Cup apps are managed by Turner Sports on behalf of The PGA of America and Ryder Cup Europe.