GolFantasy Is Back!

Casa de Campo to Host Legendary "Golf with the Pros" Vacation on December 2-9, 2012; Open to Public, All-Inclusive, Amazingly-Priced
NEW YORK (August 29, 2012) – GolFantasy, the legendary vacation event experience where amateur golfers get to play alongside touring Pros and fraternize with them in an exotic setting at a surprisingly affordable price, has announced its much-awaited return.
The dates are December 2-9, 2012 and the site once again is Casa de Campo, recently voted the World's Leading Golf Resort for the 5th consecutive year (at the World Travel Awards in Qatar).
"We've been inundated with requests to bring GolFantasy back," says Howie Hacker, who also produced the event in the 1990's. "Casa de Campo shares our vision. Timing was finally right."
GolFantasy is billed as "A Dream Week of Golf, Unlike Any Other". Its guests play 18+ holes with touring Pros each day. Private GolFantasy events also include clinics, tourneys, forums, individualized instruction, exhibitions and daily contests. GolFantasy recently announced it has added Bruce Fleisher and Jim Thorpe – each a Top 10 All-Time money winner on the Champions Tour – to its arsenal of touring pros.
Adds Hacker: "The activities are designed so that guests really get to know the pros; not just golfing but dining and socializing with them."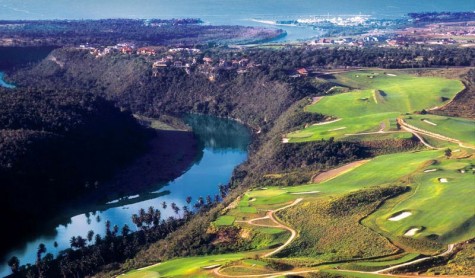 "Jim and I are excited to participate," says Fleisher, "I have been to Casa de Campo several times, and this is a wonderful resort, with great golf and amenities – pretty close to paradise."
Casa de Campo is a lush, 7000-acre deluxe Caribbean resort located on the Southeastern coast of the Dominican Republic. It boasts three championship golf courses (including the renowned Teeth of the Dog), designed by Pete Dye, who actually has a villa home at the resort.
GolFantasy guests will stay in Elite category rooms with 42-inch, flat-screen cable TVs and high speed wireless Internet service. They will enjoy gourmet dining at restaurants that include Chinois and Beach Club by Le Cirque. The resort is accessible by both La Romana International Airport, and Punta Cana Airport. American Airlines services both airports several times daily.
"First and foremost, this is a vacation," says co-producer Billy Bunker. "In addition to golf and our scheduled activities, there is plenty of time to relax, make new friends, and the setting is spectacular and beautiful. We often tell our male guests – even if your wife doesn't golf, she will love GolFantasy."
"John Daly told me to lie down on the grass," says Harold Grant, a former guest. "He put a tee on my head and whacked it 350 yards off that tee. Where else but GolFantasy could that happen?"
The biggest hallmark of GolFantasy has always been its surprisingly affordable price, which Hacker calls "also an important part of the fantasy". The new GolFantasy program is truly "all-inclusive", combining accommodations, taxes and government surcharges; round trip transfers to/from the airport; all private GolFantasy activities including the golfing and other social interaction with Pros; all instruction, tourneys, contests, functions, parties, and off-site tours; unlimited golf, including cart and greens fees; all meals – 3 per day at on-site gourmet restaurants and on the golf course itself; all beverages (including alcoholic beverages); all gratuities and service charges; plus contests, prizes, gifts, souvenirs … and a goodie bag. The 7-night program is $4995, and the 4-night program is $3295. Special rates exist for non-golfing spouses and for a limited time, round-trip airfare is also included.
For further information and a full list of invited and participating touring Pros, please call:
1-855-2-GOLF-00 (1-855-246-5300) or visit www.golfantasy2012.com.
Images are available for media use at: http://www.golfantasy2012.com/image-gallery/