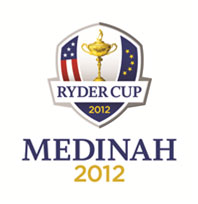 New Program Promotes Fan Commitment To Sportsmanship, Honor and Team USA
MEDINAH, Ill. – The PGA of America is pleased to invite golf fans to show their support for the 2012 U.S. Ryder Cup team by becoming a "13th Man" at RyderCup.com. The 39th Ryder Cup will take place Sept. 25-30 at Medinah (Ill.) Country Club.
The "13th Man" initiative focuses on engaging U.S. golf fans and recognizing their incredible enthusiasm for the Ryder Cup, especially for the thousands of fans who won't be attending the Ryder Cup but instead will be following along passionately via broadcast coverage and social media.
"The Ryder Cup generates incredible excitement among fans, and as part of The PGA of America's commitment to growing the game of golf, we're excited to create a unifying platform for our U.S. fans that represents the true spirit of the Ryder Cup," said PGA of America President Allen Wronowski. "The 13th Man is built on a foundation of sportsmanship, honor and support for Team USA."
Fans who sign-up to become a "13th Man" will receive access to exclusive content, daily e-mail updates during the Ryder Cup, special merchandise discounts and opportunities to demonstrate their "13th Man" pride online by submitting photos and using the #13thMan hashtag when tweeting about the Ryder Cup.
"I'm very proud to have the honor of leading America's best golfers in the 2012 Ryder Cup, and I'm excited to see fans across the country unite to support our U.S. team," said 2012 Ryder Cup Captain Davis Love III. "Whether fans are cheering from Medinah or from their living room, their support is what makes the Ryder Cup so unique. Our players are inspired by their loyalty."
To become a "13th Man" or to learn more, visit www.RyderCup.com.