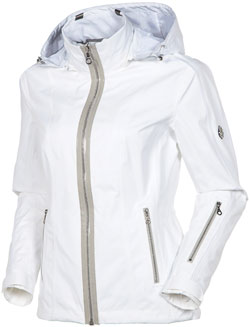 Outerwear and Silver Polo Collections
Montreal, Quebec – Sunice®, Canada's No. 1 outerwear brand, is pleased to unveil its 2013 Outerwear and Silver Polos collections, and introduces EDGE, a new collection with a trimmer fit.
The Sunice Golf 2013 men's color palette uses updated blues, sedona and purple to brighten up collections of basic black and navy. Product embossing details allows for a new take on traditional colors like grey and add visual interest to exciting new colors like charcoal and ivy.
Hurricane – Kelly GORE-TEX® Jacket in Pure White
The ladies collection highlights the ever-popular pure white and adds to the golf fashion rainbow, a soft purple named vivid violet, a new take on blue with barely blue and a bright reddish tone called Radiant Red. The addition of abstract prints helps to make the ladies outerwear unlike any other outerwear brand in the market.
Sunice offers seven different categories in their Spring 2013 line including the all new Sunice Outerwear collections EDGE, Hurricane, Tornado, Typhoon, Pro Sport and Sport, as well as technical apparel line, Sunice Silver. Each outerwear category provides different levels of protection from an array of weather conditions. A multitude of technical applications and the science of developing performance apparel gives Sunice the cutting edge necessary in providing the ultimate Freedom to play, no matter the weather.
Elmont EDGE GORE-TEX® Jacket
All new EDGE Collection
Featuring GORE-TEX® enable with Paclite® technology and backed by the GORE-TEX® "Guaranteed to keep you dry™" promise, the Edge Collection differentiates itself from the Hurricane Collection with a new trimmer fit and bold colors and logos. This waterproof and high-performance layering collection is inspired by PGA Tour cutting-edge young guns.
The collection contains 3 jackets and 1 pant – all in GORE-TEX® enable with Paclite® technology. Colorway in this collection is very bright with lime/white and black embossed fabrics/trims. The jacket's added features include larger and trendy branding, bright colors, and the Pro-Trim™ waist cinching system, in-pocket ball cleaner. The Sunice style is represented in detailing such as laser cut designs at back, laser cut and welded pocket frames, and the Sunice patented V collar design.
Ultimate V5 GORE-TEX® Jacket
Hurricane Collection
Featuring GORE-TEX® enable with Paclite® technology and GORE-TEX®, and backed by the GORE-TEX® "Guaranteed to keep you dry™" promise, the Hurricane Collection is the Sunice Gore category.
The ever-popular Ultimate Jacket is back in its fifth version (V5), with a complete re-design. The Sunice science is evident in the V5 jacket's added features, including the X-Static® stretch lining, Pro-Trim™ waist cinching system, in-pocket ball cleaner, and stretch insert back panel. The Sunice style is represented in detailing such as laser cut designs on the sleeves and body, laser cut and welded pocket frames, and the Sunice patented V collar design.
Havelock FlexVent™ Jacket
Tornado Collection
Breathable, ultra lightweight and ultra quiet products backed by a four-year waterproof guarantee are what define the Tornado Collection.
Sunice FlexVent™ for 2013 introduces new colors of Citadel and Sedona, along with a Charcoal plaid print brightened with shadow and White. Versatile, full stretch, highly breathable, and waterproof, this proprietary fabric technology is perfect for playing golf in heavy rain or varying temperatures with its performance features and extreme comfort. Our FlexVent™ fabric is one of the most waterproof stretch fabrics on the market. With its uniquely soft hand feel and super quiet laminate, we believe this is the future in waterproofs.
Typhoon Collection
The Typhoon category – now a full-stretch, waterproof category with a three-year waterproof guarantee – encompasses all that a well designed, lightweight rainsuit should be. Introduced in 2011, Zephal™ is a quieter-performing lightweight fabric that now has the added benefit of Full Stretch. An assortment of styles provides a great value proposition for a very technical suit, and incorporates many of the golf-enhancing features that Sunice is famous for.
Pro Sport Alicia WINDSTOPPER® Full Zip Merino Wool Sweater
in Vivid Violet
Pro-Sport Collection
Taking what we do best and applying it outside of the raingear spectrum has resulted in the Sunice ProSport  Collection. This category features WINDSTOPPER® by Gore as its high-end performance gear, resulting in lightweight and fashion driven layering pieces.
For those weather conditions that are a little more demanding, your ultimate choice should be a WINDSTOPPER® garment. The most breathable, 100% windproof, highly water repellent styles available from Sunice include the new Triberg as a super lightweight and 4 ways stretch jacket; while the Malaga is the vest version incorporating the same feature. The Dundee, York, and Birmingham all provide new design options in our infamous
WINDSTOPPER® lined sweaters.
Sport Layers Collection
Allendale Pullover FX™ Pullover
Adding properly designed layers into a golf wardrobe can enhance a golfer's overall physical performance and ultimately improve their golf game. Sunice Performance Layers are designed to create an apparel layering system that allows golfers to play at their very best in all weather conditions. For cool mornings or damp dawns early in the season, when an extra layer is needed without the extra bulk or weight, the Allendale SuperLite FX™ Pullover is the update to the Olie and is definitively the ultimate choice. A chest pocket zipper surrounded by laser cut seal tape, moisture wicking properties, and bright color combinations are just a few of the details that make this piece stand out from the rest.
Silver Collection
Sunice is the only golf apparel company to have the silver technology in its garments, featuring the X-Static® fabric.
Padova Asymetric Stripe Polo
The Men's Sunice Silver Spring 2013 Collection offers a wide selection of core basics including a short and long sleeve polo option, lightweight layering, and bottoms in a variety of plaids and solids. Bottoms are available in Black, Midnight and Charcoal. Full stretch fabric, and stain release are a few of the characteristics that make the Peter moisture wicking shorts a very desirable option. Deconstructed argyles, asymmetrical blockings, updated herringbone, and an assortment of stripes are but a few of the design details found
Susan Firework Print Polo
throughout the collection.
The Women's Sunice Silver Collection has basics to merchandise back into the fashion collections and bottoms in solids and plaids. The Utility Chic Collection is made up of classic Black and White; Married to a royal Collection merchandises the Sunice Silver version of purple with vivid violet, charcoal and White; and finally, Blue my Mind leaves one dreaming of luxurious Barely Blue and fresh white. Sunice Silver for women provides clean lines and fashion detailing to a technical shirt collection.
About Sunice
Sunice®, founded in 1976 in Alberta, Canada as a skiwear brand, successfully transcended its technical outerwear capabilities into the golf market in the early 1990s as the golf industry gravitated towards designing sport-specific garments that truly helped enhance the game. Thus, it's no surprise Sunice® – owned and run by Montreal, Canada-based Fletcher Leisure Group Inc., a company with 42 years of golf industry experience – meets the demands of the most discerning golfer. Sunice® golf rainwear is a chosen favorite by many PGA and LPGA Tour players around the world.