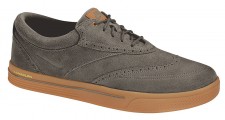 -Nike Golf's Lunar Swingtip shoe pays homage to the wingtip design-
BEAVERTON, Ore. (June 28, 2012) – Nike Golf's non-stop innovation is in full swing as its footwear team continues to thrive on inspiration from Nike Athletes. The most recent idea born from Nike Athlete input is the new men's Nike Lunar Swingtip shoes that pay homage to the classic wingtip design.
A team of Nike Golf engineers and designers visited Nike affiliate, Hurley, for unique athlete inspiration from skateboarders and surfers who enjoy golf and can go low on the course. The engineers and designers utilized these insights as well as those already in the Nike Skateboarding line, to create a shoe that provides stability and comfort on and off the golf course.
"Nike Action Sports has a lot of skate and surf athletes who love golf and are low-handicap players," said Lee Walker. "When they play, they want to look the part – to wear the 'uniform' of golf.  But at the same time they, better than most, can appreciate the stability afforded by a low-profile cupsole construction given the performance demands of their chosen sports.  Balance and stability are critical in board sports just as they are in golf."
The traction pattern of the outsole was derived from a pressure mapping study Nike's Sports Research Lab (NSRL) conducted on multiple categories of Nike Athletes. These findings directly influenced the stud configuration, geometry, and heights of the lugs, resulting in a design that offers traction on demand, when and where you need it.
The lugs engage with the ground throughout the swing, providing a secure grip with hidden traction. The rubber rim around the bottom of the shoe is weight activated, working with the movements of the foot to create increased stability while concealing the traction lugs below.
A full-length Nike Lunarlon sockliner delivers superior out-of-the-box comfort while providing ground feel and support. Walker stated, "Action Sports had been utilizing this execution of Lunarlon foam in their Skateboarding line. This inspired our team to incorporate a similar drop-in Lunarlon sockliner for comfort directly underfoot."
Wingtip upper designs are available in multiple colors and material offerings, including:  Leather (1-year waterproof), Suede and Canvas.
AVAILABILITY: July 1, 2012
Leather (1 yr WP): MSRP: $150 – MAP/STREET: $119.99
Suede: MSRP: $140 – MAP/STREET: $109.99
AVAILABILITY: January 1, 2013
Canvas:  MSRP: $130 – MAP/STREET: $99.99