Playable, Displayable Irons Commemorate 2011 PLAYERS Championship Win
Vancouver, B.C. — Miura Golf, the legendary Japanese maker of the world's finest forged golf clubs, is cooperating with K.J. Choi, the world-class Korean golfer, to offer a special, limited edition replica set of the Miura forged irons Choi used to win the 2011 PLAYERS Championship on the PGA Tour.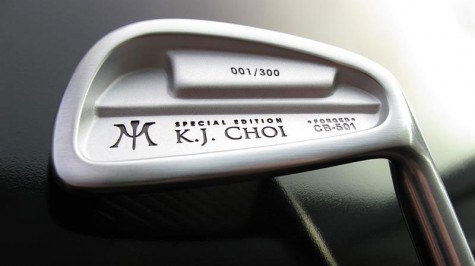 The K.J. Choi Special Limited Edition Irons by Miura include the exact same Miura-forged CB-501 model 4-iron through pitching wedge that Choi carried at TPC Sawgrass, plus special Miura 54- and 59-degree wedges. The clubs feature shafts by KBS, the same model Choi used, plus special Miura grips made by PURE Grips. Special graphics designed for these sets alone adorn each club.
Only 300 sets of these special clubs will ever be made. Each club bears its own set number, displayed as in this example — 001/300 — to show that it is part of one of only 300 sets that will ever exist.
"We planned this project very carefully, and when we approached K.J. with it, he was very enthusiastic," said Adam Barr, president of Miura. "He saw a chance to work with a great club designer and maker in Mr. Miura, plus an opportunity to do even more good with his foundation."
Choi will donate a portion of the proceeds of the sale of limited edition sets to the K.J. Choi Foundation, which champions children's causes in Korea and around the world.
Each set of the K.J. Choi Special Limited Edition Irons by Miura will come in its own wood presentation/display box, accompanied by a letter of authenticity signed by both Choi and Katsuhiro Miura, founder of Miura Golf. Although they are beautiful enough to own simply for collection and display, these clubs are completely playable and manufactured to the usual high standards set by Miura.
The sets are available individually or in lots as corporate gifts. Buyers may choose the set numbers they want, provided the numbers they choose have not yet been sold. The cost per set is US $5,000 plus shipping and handling. Miura will ship the clubs anywhere in the world.
More information, including simple ordering instructions, is available at the Miura website's special KJ Choi Limited Edition page: http://www.miuragolf.com/shop-cb501kjchoi.asp.