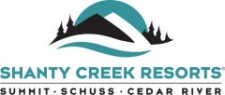 Shanty Creek Resorts Schuss Mountain Golf Club offers two options everyday for golfers to play.
Bellaire, MI – Shanty Creek Resorts (SCR), one of northern Michigan's premier golf destinations, is doing its part to make the game of golf fun, fast, and easier for children and beginners in 2012.
In an effort to make the game easier for less experienced players, the resort has implemented a permanent program on the Schuss Mountain course utilizing 8-inch cups on each hole, in addition to its traditional 4¼-inch cups. Shanty Creek is one of the first resorts in America to implement a program such as this on one of its major courses.
"This is a very unique and unprecedented program we are implementing at Shanty Creek Resorts. Guests will have an option every day to play either the regular tees to the traditional cups or move to the forward tees and play to the 8-inch cups," explains Brian Kautz, director of golf and PGA Professional for SCR. "We have four golf courses at our resort, so this was the perfect opportunity to convert one of our courses and implement this program. Hopefully, this will help grow the game of golf."
This initiative is part of the "Golf 2.0" campaign that Jack Nicklaus has been urging members of the PGA to adopt to restore fun, particularly for women and junior players, to the game. Nicklaus recently hosted a 12-hole event at his Muirfield Village Golf Club where the club also implemented 8-inch cups.
Shanty Creek Resorts is hoping that by providing the option of 8-inch cups and urging players to "Tee it Forward" – moving up at least one tee box — that the resort can get more participation. This also includes a new set of forward tees being developed at Summit Golf Club ranging from 95 yards to 125 yards, which is also attracting youngsters and beginners to play more.
Hopefully, guests will try this new format and recognize that golf can be a fun activity for women, children, families and beginners of any age.
"If you are a beginner or a family with young children and want a fun and non-intimidating experience with the game of golf, then this new program on the Schuss Mountain course will be a perfect opportunity. Our goal is to grow the game's appeal by making it easier, less time consuming, and fun," Kautz says.
To encourage more children, women, and families to play at the resort this season, children under the age of 17 will be able to golf for FREE on the Schuss Mountain and Summit Golf Club courses with a paying adult seven days a week. Children will also be able to play FREE on The Legend and Cedar River golf courses on Sundays after 2 p.m.
For more information about Shanty Creek Resorts and its new 8-inch-cup program, and to book your next golf vacation, visit www.shantycreek.com.