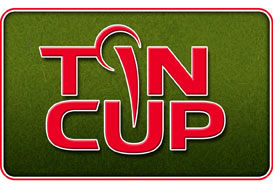 LSU, U.S. Air Force Academy, UVA and The University of Arizona Among New Alma Mater Styles
(FALLS CHURCH, VA) – Tin Cup Products, LLC – maker of patented, Made in the USA golf ball marking stencils – announces the addition of seven designs for six universities to its popular collection of 30 officially-licensed college cups.
Used by PGA, European, Champions and LPGA Tour stars, each Tin Cup ($19.95) is constructed from 100 percent stainless steel. The newest additions include:
Brigham Young University – captures the "Y" mark, seen prominently on the school's football helmets
Louisiana State University – highlights signature "LSU" letters that distinguish the state's flagship institution of higher learning
The University of Arizona – features the block "A", allowing users to depict it in UA red and blue
The University of Utah – showcases "U" monogram to be filled with red or achieve the 3-D effect by outlining it in black
U.S. Air Force Academy – portrays the stacked "AF" in a sleek serif font
University of Virginia – two stencils offered, one boasting the traditional "UVA" lettering, the other depicting the signature "V"
"Our college cups have been hot sellers online and in golf shops around the country as die-hard fans show their school pride while on the course," says Cabell Fooshe, Vice President of Tin Cup. "Based on our outstanding track record in this market, we anticipate these Tin Cups will be in high demand for holidays, tournaments, corporate outings, wedding parties and other events."
Since being named "Best New Product" at the 2010 PGA Merchandise Show, the company has grown rapidly. Its personalization process takes just seconds, as players simply place the stencil over a ball and trace the template using an ultra fine point permanent Sharpie.
The ever-expanding Tin Cup collection now features more than 90 designs, including a wide range of emblems from all four major military branches and visualization/game improvement marks. Complementing popular styles like Luck of the Irish, Five O'Clock Somewhere and Jolly Roger, new products are introduced each month. An affordable customization program used by well-known corporations, charities, media outlets, celebrities and many others is also available.
For more information: www.tin-cup.com, 888.984.6287.