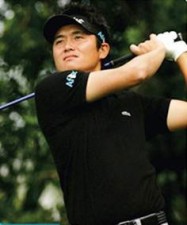 PGA PROFESSIONAL RYUJI IMADA TO SIGN ENDORSEMENT DEAL WITH FOURTEEN GOLF AT UPCOMING PRESS CONFERENCE
IRVINE, CA – JANUARY 4, 2011 – FOURTEEN GOLF, the worldwide leader in wedge design with over 38 professional tour victories, announced today that the company has scheduled a press conference to officially sign Japanese golfing prodigy and PGA Professional Ryuji Imada to a three year endorsement deal which includes a staff bag, head covers, hat, umbrella and wedges.
FOURTEEN GOLF and its PGA Tour staff which includes Arjun Atwal and Chad Collins will begin the presentation at 6:00pm in the Maile ballroom (Maile Mauka section) on Tuesday, January 10, 2012 at the Kahala Hotel & Resort.
According to FOURTEEN GOLF COO Marcy Kamoda, "We are thrilled to host this special event. It marks several milestones for the company. In addition to signing the highly popular Ryuji to our team, we are celebrating our 30th anniversary, and have a roster of new products that clearly establishes FOURTEEN GOLF as a preeminent equipment manufacturer."
Imada began playing golf in Japan at the early age of seven. To further grow his game and experience he moved to Tampa, Florida. As a junior golfer he captured six titles which included Golf Week's MVP Junior Golfer and the exclusive Rolex Junior Player of the Year.
The number #1 ranked Junior and Amateur played collegiate golf at the University of Georgia. In 1999 the young and highly gifted Imada turned professional. In 2008 after several successful years on the Nationwide Tour, Imada made history as being one of three Japanese born golfers to win a PGA Tour event. He captured his first PGA Tour victory at the AT&T Classic and has maintained his PGA Tour card for eight consecutive years.
The Kahala Hotel & Resort is yards away from the exclusive Waialae Country Club which hosts the Sony Open. The address is 5000 Kahala Avenue, Honolulu, HI. During the brief conference, the company will be providing
hors d'oeuvres and beverages.
"FOURTEEN GOLF PGA Professionals Arjun Atwal and Chad Collins will welcome all members of the media as well as introduce Ryuji as the newest member of the FOURTEEN GOLF professional golf staff," adds Kamoda.
FOURTEEN GOLF is a burgeoning golf equipment company that takes great pride in their tour program. The company has celebrated 38 professional tour wins in the last two seasons.
2011 FOURTEEN GOLF (18) Professional Tour Wins:
NGA Hooters Tour at River Hills Golf Course
Philippine Open
Peach State Professional Golf Tour – Winter Series at Black Bear GC
Peach State Professional Golf Tour – Winter Series at Kissimmee GC
Indonesia PGA Championship
Nationwide Tour Stadion Classic
OneAsia Tour – China Masters
KLPGA – Doo San Match Play Championship
JPGA – Totoumi Hamamatsu
Asian Tour – Queens Cup
NGA Hooters Tour – Texas Honing Open
NGA Hooters Tour – Victoria Texas Open
OneAsia Tour — Indonesian Open
Nationwide Tour — Children's Hospital Invitational
E-Golf Tour — HGH Classics at Rock Barn
OneAsia Tour – Thailand Open
Ladies European Tour – Sicilian Ladies Italian Open
LPGA – CME Group Titleholders
For more information on FOURTEEN GOLF visit the company website at www.fourteengolf.com. For information on the FOURTEEN GOLF press conference, please contact Vanessa Price at 714-544-6515 or at readthegreens@aol.com or Tracy Nackel at 760-420-1602 or at tnackel@cox.net.