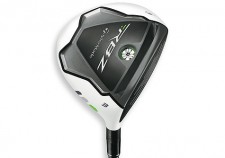 TaylorMade Golf Reveals the Story Behind RocketBallz™
RocketBallz (RBZ) Name Inspired by Incredible Performance Breakthrough First Achieved in a Rescue Prototype
CARLSBAD, Calif. (December 13, 2011) – The name RocketBallz is a truly unique part of TaylorMade's newest product franchise and draws upon inspiration from an engineering dream first realized in a prototype Rescue clubhead. In search of the first significant fairway wood innovation in relation to COR and ball speed since the introduction of steel construction in the 1980s, TaylorMade developed and discovered advancements that, collectively, produced RocketBallz technology.
"If you can come up with a name that does a good job of defining what the experience of a product could be, that's exactly the scenario you want," said Sean Toulon, Executive Vice President. "Product names come from all over the place but typically they'll come from marketing, product marketing and sales. Never before has one come from R&D."
Not unlike many early product prototypes, the first RocketBallz metalwood was rigid, unfashionable and unrefined but its performance was truly incredible. Taken to a handful of TaylorMade Tour Staff professionals for testing, the launch conditions and increased distance it produced were remarkably consistent and immediately unmistakable. The characteristics of the prototype's performance were best captured in a single analogy as described over and over – "like a rocket."
"I brought the prototype out to some players and Dustin Johnson was the first one to test it," said Todd Chew, Tour Product Specialist. "He's unbelievably long, as we all know, but he was just blown away by how far the Rescue was going. Dustin said a couple of times, 'It's like a rocket.'"
When the prototype returned from initial field testing, TaylorMade's engineers took the creative liberty to etch the name, "RocketBallz," into both the CAD model and the sole of the prototype clubhead. The etching, similar to the fashion in which the prototype performed, was raw, aggressive and far-removed from the alphanumeric naming conventions normally associated with such product developments. Nonetheless, the project advanced with extreme fervor and excitement surrounding the performance breakthrough.
"I never thought RocketBallz would actually show up on the prototype," said Todd Beach, Senior Director of Product Engineering, Metalwoods. "Typically, it's got an MW label and a number on there, whatever our number is. When the prototype came back, I was like, 'What are you guys doing?' I can't believe you put that on there. There's no way we're going to call the product that."
Quickly, the prototypes were refined, the performance improved and the name RocketBallz stuck. In 2012, TaylorMade is introducing the RocketBallz fairway woods and Rescues, which deliver dramatically higher ball speed to promote added distance.
"Whatever you want to call it, this technology is a breakthrough," said Benoit Vincent, Chief Technical Officer. "It allowed us to increase the COR of Rescue clubs and fairway woods dramatically, resulting in an immense gain in distance."