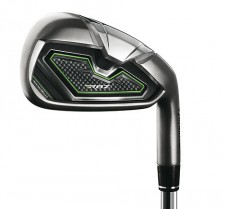 Breakthrough RocketBallz Iron with Metalwood Technology Raises the Bar in Forgiveness and Distance; Innovative New Toe-Bar Technology Promotes Straighter Shots
CARLSBAD, Calif. (December 13, 2011) – TaylorMade Golf, today introduced RocketBallz irons, a progressive and dynamic set engineered to deliver effortless distance and a higher and straighter ball flight. This winning combination of distance and accuracy makes the new RBZ iron a game-changer and positions to be one of the greatest iron sets in company history.
"Without a doubt, the new RocketBallz iron will be an improvement over any other iron in a golfer's bag," said Sean Toulon, executive vice president of TaylorMade Golf. "From a technology standpoint, we have done the unthinkable. We brought in metalwood engineers to help create irons with faces that behave like drivers, sending the ball easily high and far almost as if it was bounced off a trampoline. These technological advancements will be visible to the golfer upon first contact with a ball."
Key to the distance performance of RocketBallz irons is a large, thin clubface that's strong and stiff at the perimeter and thin at the inner edge, allowing the face to flex freely like a trampoline. No part of the clubhead structure inhibits or restricts the flexion of the face. RocketBallz also incorporate TaylorMade's Inverted Cone clubface technology, which expands the portion of the face that delivers high ball speed, promoting more distance on off-center hits.
Every RBZ iron head, from the 3- to the lob wedge, is uniquely constructed and features a progressive length and spec package, which has been carefully coordinated to ensure proper trajectory and distance gaps throughout the set.
RocketBallz 3- through 5-irons feature a new, hollow clubhead construction akin to that of the company's industry leading line of metalwoods. This hollow head construction allows the company's engineers to create the clubface (455 carpenter's steel in the 3- through 5), and allows for a lower and centered CG location which ensures pure contact on the face when hitting off turf, promoting maximum energy transfer at impact.
Lowering the CG also allowed TaylorMade engineers to strengthen the loft to promote a more penetrating flight. This improved CG location is made possible in the 3- to 6-irons by thinning areas of the sole, top-line and back wall, then repositioning the saved weight strategically to the back wall and heel to shift the CG lower and more toward the center.
New Technology Promotes Accuracy
Key to the improved accuracy of RocketBallz irons is the new "Toe-Bar" feature, positioned in the upper toe, and the new design of the Inverted Cone. Fast-faced irons suffer in terms of accuracy because the asymmetrical shape of an iron face naturally causes the flex-point of the face to direct the ball off-line. The Toe-Bar and redesigned Inverted Cone together stiffen the toe-area of the clubface so that when the face flexes it directs the ball straight forward.
"We've worked extensively to advance fast-faced iron performance, and feel like we're well ahead of our competitors in this category," said Bret Wahl, TaylorMade senior director of iron, wedge and putter research and development. "We've learned that high COR is most useful when on top of high speed you can also control the face-flexion to send the ball on an accurate flight-line. With that in mind, we're very pleased with what we've achieved with the RocketBallz iron."
Progressive Clubhead Shapes
RocketBallz clubheads are progressively shaped, with smaller, compact short-irons, deep undercut-cavity middle-irons and large, hollow long-irons. All feature TaylorMade's Multi-functional Sole (see Multi-Functional Sole tech brief), while the sand wedge, attack wedge and lob wedge all incorporate our new ATV sole.
Advanced Engineering for Better Feel
A new vibration and sound control system in the 3-iron to pitching wedge dampens unwanted vibration without slowing the face down. We're using a new Japanese urethane layer for the first time that's exceptionally soft and pliable; it works in conjunction with the badge system to absorb unwanted vibration and sound without slowing the face.
Also, every RocketBallz iron is engineered with an added cavity chamber in the heel at the point of the hosel-to-face transition that makes the heads easier to bend, allowing us to offer RocketBallz in 4 degrees upright, 4 degrees flat, and plus-or-minus 2 degrees in loft. The necessity for this was discovered during prototyping as the hard 455 steel used for the clubheads makes bending difficult.
Club Specs, Pricing and Availability
RocketBallz irons are available in 3-iron through LW, right-handed and left-handed (no left-handed LW). Sets of eight clubs are being sold at a manufacturer's suggested retail price of $699 with steel shafts, $899 with graphite shafts. Steel shafts weigh 85 grams, steel wedge shafts are heavier at 105 grams to promote increased rhythm and feel. Graphite shafts weight 65 grams. Ladies' RocketBallz irons are available in 5-iron through SW, equipped with a lightweight 55-gram graphite shaft, and carrying an MSRP of $899. The grip is a new design created especially for RocketBallz irons. Availability at retail starts on February 3, 2012.