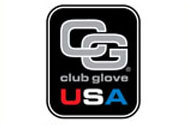 J-Hook Creates Perfect Leverage Angle for Exceptionally Easy Transport
(HUNTINGTON BEACH, CA) — Club Glove® announces a new method for connecting its famed golf travel bags with rolling carry-on pieces using a simple device that creates a luggage train to provide ideal leverage and an optimal balance point.
Tested and proven to perform under real-world travel conditions — rough or smooth surfaces and a variety of inclines — this connection system centers upon a new attachment point for the Club Glove J-Hook ($12.95). Users simply fasten the device to the fully extended handle of a carry-on piece and place the carry grip of a Last Bag® XL, Last Bag® or Burst Proof w/Wheels II in the hook.
"This amazing method allows avid golfers already using Club Glove travel gear to duplicate the effect of our patented Train Reaction(TM) System without having to upgrade their luggage," says company President Jeff Herold. "The ensemble self-balances, is ready to roll in seconds and so easy to transport that even a six-year old can easily pull 100 pounds of gear."
Built with a lifetime of use in mind, Club Glove's American-made products are crafted from INVISTA CORDURA® fabric that is known for exceptional resistance to abrasions, tears and scuffs. Highlights include the Last Bag, which was honored by Golf World magazine as one of the game's "10 Best Innovations." This signature golf travel bag was recognized for its extreme durability, extra thick foam padding and patented high-impact plastic wheel base that cradles and shields the bottom of the bag.
Club Glove is the world's leading maker of premium Made-in-the-USA golf bags, club covers, travel bags, accessories and luggage. Preferred by 90 percent of PGA Tour players, as confirmed by Darrell Survey, Club Glove is the No. 1 golf travel bag brand at all PGA and Champions Tour events. Selected by six U.S. Ryder Cup teams, Club Glove's golf bags have been a fixture at green grass and off course shops for nearly a decade and are available in stand, cart and Sunday versions.
More information: www.clubglove.com or 800.736.4568