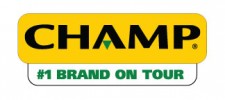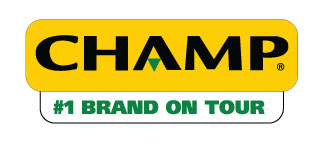 (MARLBOROUGH, MA) – MacNeill Engineering Worldwide – The World Leader in Sport Cleat Technology® and maker of innovative CHAMP spikes, high-performance golf tees and accessories – confirms eight of the top-10  finishers at the World Golf Championships-HSBC Champions relied on its renowned cleats, according to Darrell Survey.
The #1 Brand on Tour®, CHAMP's technologically-advanced cleats were used by 62 percent of the field at Shanghai's Sheshan International Golf Club, with more than 40 percent relying on the acclaimed ScorpionSTINGER™. Several other players turned to the new Zarma® cleat, which features patented cushion technology to provide maximum comfort on any course.
"WGC events feature the world's greatest players, the vast majority of whom trust our innovative cleats to help them perform their best in all conditions," says Harris MacNeill, President and CEO of CHAMP/MacNeill Engineering Worldwide. "This latest result continues the trend that's occurring week after week on all the major professional tours worldwide."
CHAMP spikes have provided superior traction and stability on the footwear of 27 of golf's last 33 major tournament winners. Beyond the cleat category, the company recently launched the Zarma FLYtee™. Drawing from MacNeill Engineering's unrivalled 80-year heritage of industry-changing solutions, the FLYtee has quickly become one of the most-used tees on Tour. Made with durable, environmentally-friendly materials, its six-pronged head and shallow cup reduces friction, increases distance and improves accuracy.
With more than 100 active distributors, CHAMP is the world's largest manufacturer of replaceable cleats. The company produces more than 140 million spikes annually and is the dominant global brand in football, soccer, golf, baseball, cricket, rugby and other sports.
For more information: www.champspikes.com, 1-800-OK-CHAMP.