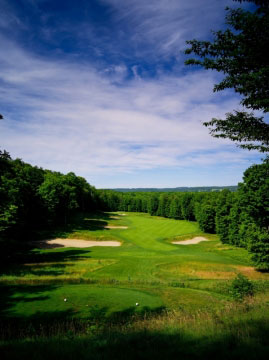 GOLF AND ROOM OCCUPANCY SCORE STRONG GAINES IN 2011
Gaylord, MI – One year into a new era of management, Treetops Resort in Gaylord is enjoying a remarkable revival that promises even better results for next year and beyond.
Under the leadership of General Manager Barry Owens, the resort and its all-star lineup of five golf courses is well on its way to reclaiming its national reputation as one of the top golf destinations in the Midwest.
When Owens took over daily operations a year ago, he pledged to reinvigorate the iconic resort by bringing stability to its management, while introducing new approaches to appeal to former patrons and golf fans as well as new ones.
The final tally from the 2011 golf season indicates that both promises have been full filled.
"Our golf rounds were up 60 percent for the calendar year, and room nights are up in the neighborhood of 26 per cent," Owens said, while quickly crediting new electronic marketing techniques for the surge in business.
"We were able to get into some different channels of marketing, relying more on electronic and social media to reach out to golfers," Owens said.
While social media such as Facebook and YouTube are credited with sparking revolutions in dictatorships in the Middle East, Owens found they could also reach customers in a more personal way.
"One of our key partners here in this resurgence is a company, Legendary Marketing, that is big into electronic communications and through them we finally got a good strong presence on Facebook," he said. "We've been able to do actual marketing efforts right through there. We've been able to really target and take care of fans that love Treetops and want to receive regular information. The activity there is just amazing, as is the amount of business we get right from there."
He said the key to cashing in on that interest was positioning price points to make Treetops an affordable choice for visitors.
"We worked to match our pricing structure with what the consumer today is willing to pay, and to match the various supply and demand times to peak pricing and non-peak time pricing," he said.
Owens said that the resort did not simply give away the store to rack up sales.
"A lot of people said 'well you discounted your prices,' and in certain instances we did," he said. "These increases in volume of units, however, translated directly to significant increases in revenue, and more importantly, net income for the property and the owners"
Owens said using Facebook renewed the public's interest in Treetops and drove new traffic to the resort's web site.
"We have a strong presence for our golf and summer season, and a separate one for the winter ski season," he said "It drives people back to the Web site and keeps them in tune and in touch with what's happening here."
The increase in revenue also resulted in upgrading the golf courses, The Signature, Tradition, the Threetops, designed by Rick Smith, the resort's nationally acclaimed golf instructor, and an owner of Treetops. The other courses are the Robert Trent Jones' Masterpiece, and the Premier, designed by Tom Fazio.
"The owners have cut some capital improvement funds loose and we have a $450,000 bunker renovation plan in place," Owens said. "We've got about half of it done this year. We have the Signature, Tradition, and the Par 3 Threetops, almost completed, and the renovation includes removing and replacing the old sand. Next year we will do the Jones and the Fazio."
He said renovations were also made this summer to the restaurants and the sports bar, and plans are underway tackle redoing the common areas and the rooms.
In the mean time the immediate attention is focused on sprucing up the resort for the upcoming ski season.
"We're redoing our retail and our lift ticket sales area," he said. "There are a couple of the buildings at the bottom of the hill where we're investing some money to make them more user friendly and easier for all our skiers and season pass holders."
"We're also putting in ski storage lockers for people who come up regularly or are season pass holders so they can store their stuff right here and not have to lug them around. This building will be redone with reserved parking for season pass holders so that's pretty exciting," Owens said.
A major boost for Treetops was the surprise announcement that the Garland Resort in nearby Lewiston will close for the winter, and not reopen until next May.
Owens is a former president of Garland, and as a member of the resort's founding family he spent more than two decades in management there. He quickly picked off one of Garland's gems, the entertainment duo of Jeff and Sue-Cult of 2 and their classic rock video show. They were Garland's renowned house band for 15 years.
Their new home will be in Hunter's Grill, soon to be reborn as a nightclub type venue, with a tapas or small plates menu, fine wines, and Martinis. The duo will kick off their Treetops stint Wednesday, Dec. 28th and perform through a New Year's Eve party. They will play Friday and Saturdays through out the year.
"It's an exciting opportunity for us. They have a large following of fans and will provide a neat opportunity for people to enjoy Treetops in another way," Owens said.
In addition to 81 holes of championship golf, the Rick Smith Golf Academy is Michigan's only three-time recipient of GOLF Magazine's prestigious Top 25 Golf School in the Nation award.
Treetops also offers downhill skiing on 23 slopes, tubing, a PSIA and AASI-certified winter sports school, and a full array of children's daycare and learn-to-ski programs. Treetops offers a full-service spa, conference and meeting facilities, indoor and outdoor pools and whirlpools, tennis courts, kids' programs and an array of accommodations options.
For more information visit www.treetops.com.