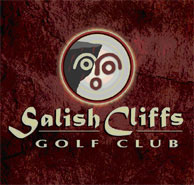 TOUR Star and Fan Favorite to Participate During Salish Cliffs Golf Club's (Shelton, WA) Grand Opening Weekend, Sept. 16-18
(SHELTON, WA) – Golf superstar Fred Couples will make an all-day appearance at the brand-new Salish Cliffs Golf Club at Little Creek Casino Resort during Grand Opening Weekend, Sept. 16-18. Couples – a former Masters champion, and PGA TOUR and Champions TOUR standout — will headline an all-day, pay-to-participate event open to the public on Saturday, Sept. 17.
"I've known and worked with Gene Bates for many years designing courses, and he thinks the Salish Cliffs layout is exceptional," said Couples. "I can't wait to see it and look forward to meeting the players who will participate in the day and hear what they think about it, too."
The native of nearby Seattle and captain of this year's U.S. Presidents Cup team will be stationed on one of the holes, where he will meet and greet all 128 players during a "shotgun" format event. The cost for participating in the event – which also includes lunch and a clinic given by the 15-time PGA TOUR winner – is $500 per twosome, $1,000 per foursome.
"Fred Couples is arguably the most popular golfer in the world and we're thrilled to have him join a fun, exciting event for players during Salish Cliffs' Grand Opening Weekend," said Head Professional David Kass, PGA.
For more details, or to reserve a spot in the event with Couples, call Takara Thale at 360.432.7043. Limit of two foursomes per person.
Couples – whose father worked in the Seattle Parks and Recreation Department and introduced his son to the game – is making his second stint as captain of the U.S. President's Cup team, which will travel to Melbourne, Australia to play the International squad, Nov. 14-20, at Royal Melbourne Golf Club. Couples played on four President's Cup teams – 1994, 1996, 1998 and 2005. His 12-man U.S. team will include two Captain's Selections, which he will make Sept. 27, just 10 days after his visit to Salish Cliffs Golf Club.
Besides his PGA TOUR accomplishments, Couples also has five Champions Tour victories, five International triumphs and 27 "unofficial" wins to his credit, including eight Skins Games titles. His much-anticipated appearance at Salish Cliffs comes just one day after the club's official opening day on Friday, Sept. 16. Tee-time reservations are now being accepted at www.salish-cliffs.com.
Located 20 minutes from Olympia and 75 from Seattle, Salish Cliffs is an amenity of the award-winning Little Creek Casino Resort, which is owned and operated by the Squaxin Island Tribe. Designed by renowned architect Gene Bates, the course is the latest high-quality amenity offered by Little Creek Casino Resort, a destination leader in the region, offering upscale lodging, top entertainment acts, museum-like atriums with priceless, authentic Indian artwork, and much more.
Public rates through September are $89 for 18 holes and $50 for nine, including green fees and cart (but not applicable tax). MVP Player's Card Holders will pay $84. The newest-model Titleist rental clubs will be available for $50 (18 holes) and $30 (nine holes).
Tee times can be booked up with a major credit card up to 10 days in advance at www.salish-cliffs.com. Advanced tee-time booking up to 60 days in advance is available for those with confirmed Little Creek Casino Resort hotel reservations by calling the golf shop at 360.462.3673.
About Little Creek Casino Resort
Owned and operated by the Squaxin Island Tribe, Little Creek Casino Resort features nearly 190 luxurious, well-appointed rooms.  The Indian-style gaming casino showcases more than 1,000 slots and table games, including poker, blackjack, craps, roulette and Texas Hold-Em. Top-quality, live entertainment — comedy, music and other shows — perform in the new, onsite Skookum Creek Event Center that hosts business and other events for up to 2,000 guests.
Getting there: Little Creek Casino Resort and Salish Cliffs Golf Club are conveniently located 20 and 75 minutes from Olympia and Seattle, WA, respectively.  It is also a quick ride from Yakima, WA as well as Portland, Salem and Eugene, OR. For more information:  www.salish-cliffs.com, 800.667.7711.