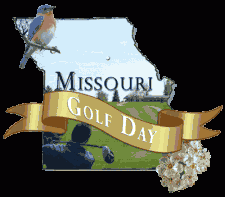 Jefferson City, Mo. — Adding to the spirit and excitement of the 2011 Missouri Governor's Conference on Tourism, this year's activities kick off with the inaugural "Missouri Golf Day," on October 11. Hosted at the Jefferson City Country Club, this golfing extravaganza features Joe Steranka, CEO of the PGA of America; Gateway PGA Foundation president and member of the National Baseball Hall of Fame, Ozzie Smith; friends and supporters from the Missouri Tourism industry; and dignitaries from golf associations across the Show-Me State.
A unique partnership, led by the Missouri Golf Association and the Gateway PGA, is bringing together golf associations from across Missouri, working with the Missouri Division of Tourism, to organize this first official Missouri Golf Day, celebrating the game of golf in Missouri.
Missouri Golf Day serves as the official unveiling of a golf economic impact study spearheaded by the World Golf Foundation. This is a collaborative study, in effort and funding, by several private entities.
In addition to Joe Steranka and Ozzie Smith, Missouri Golf Day 2011 includes special guests Thomas J. O'Toole Jr, vice president of the USGA; plus representatives from the Golf Club Managers Association, the Missouri Golf Association, the St. Louis District Golf Association, the Metropolitan Golf Association, the Golf Course Superintendents Association, Midwest PGA, and the Gateway PGA.
Missouri Golf Day is open to the public. Spectators are welcome to watch the fun for free. There is a scramble golf tournament, with a fee for individual players and 4-person teams; complete the registration form on the website mentioned below.
Also, attendees have an opportunity to test demo golf equipment; have a free golf lesson from a Gateway PGA professional; and participate in other golf-related activities. For information, please visit www.Industry.VisitMO.com and click the "Governor's Conference" tab; and you may email Shari Childs: Shari.Childs@ded.mo.gov.
The annual Missouri Governor's Conference on Tourism gets underway Oct. 12, 2011, at Capitol Plaza Hotel in Jefferson City. Information and schedules can be found at www.Industry.VisitMO.com.