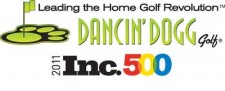 Ranked No. 358 Based on 951% Revenue Growth for In-Home OptiShot Infrared Simulator
(TRAVERSE CITY, MI) — Dancin' Dogg Golf — maker of the OptiShot Infrared Simulator, the ultimate in-home virtual golf system — has been ranked one of America's fast-growing entrepreneurial companies by Inc. Magazine, placing No. 358 on the prestigious Inc. 500 list for 2011.
This honor, which appears in the September issue, is based on Dancin' Dogg's 951.2% revenue growth from 2007 through 2010. That increase was fueled by exceptional demand for OptiShot, a fun, accurate, affordable and easy-to-use golf simulator that allows players to improve their game from the comfort of home.
"It's long been our goal to achieve the kind of success that justifies ranking among the Inc. 500," says Brandon Theophilus, CEO of Dancin' Dogg Golf. "This recognition is a tremendous achievement and testament to the fully immersive, virtual golfing experience provided by OptiShot."
Also in the September issue, Inc. highlights Dancin' Dogg's significant opportunities for future growth abroad, specifically the South Korean market.
OptiShot (MSRP: $399.95) connects with Windows computers via a plug-and-play interface and requires only 8-½ feet of swing space. With their own clubs, up to four players per round can compete by hitting real balls, foam balls (provided) or no ball at all. Infrared sensors on a durable swing pad precisely record club-head speed, face angle, swing path, distance, tempo, face contact and ball flight.
An added value component of the Dancin' Dogg experience is the recently unveiled OptiShot Support Site and OptiShot User Guide. In addition to "Top Questions" and "Frequently Asked Questions," visitors can contact Technical Support directly through a clear and easy-to-use online template. The User Guide is a comprehensive step-by-step description of all aspects of the OptiShot experience, from installation through managing Players and customizing club sets.
Dancin' Dogg also launched its next-generation software package in 2011. This includes two new core courses and a variety of features to enhance the user experience and facilitate skills development, such as:
–         Enhanced visual shot feedback and swing analysis
–         Detailed statistics tracking for export to an Excel spreadsheet
–         Precision putting grids to help visualize contours
–         Ability to create multiple players and manage their settings and preferences
In addition to complete courses, golfers can practice and compete on the par-3 option or a realistic driving range. Users can also purchase premium layouts at www.dancindogg.com.