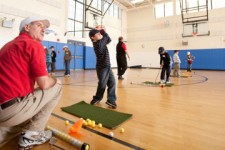 El Segundo, CA – Summer is drawing to a close. In another week or two, students nationwide will be heading back to school. They'll be hitting the books, but students at over 2,400 schools and community-based organizations will also be learning the fundamentals of golf plus valuable life skills as part of the country's premier junior golf enrichment program.
Designed for boys and girls ages 3 – 13, TGA Premier Junior Golf teaches rules, etiquette and personal integrity while promoting physical fitness and educational advancement. Founded in 2003, TGA is reaching large numbers of novices in a structured environment and has quickly established itself as an ideal way to grow the game.
"One of the great ways to grow the game is to bring golf to the masses and provide programs that are affordable and accessible for students and their families. TGA provides a program that lays a foundation for golf's future," said Joshua Jacobs, TGA's founder and CEO.
"Our goal at TGA is to be an extension of the classroom while introducing kids from all backgrounds to the fun, positive, character-building aspects of golf while creating a lifelong love of the game," Jacobs added. "The program has a simple, basic appeal to schools, students and parents."
Education and child development experts collaborated with PGA and LPGA golf professionals to create TGA's unique curriculum. Unlike other sports enrichment programs, academics play a big part in the TGA agenda. Math, English, science and history are imparted along with life skills and a character development initiative, all stressed in TGA's student handbook.
Dr. Gale Gorke, a specialist in after-school programs who helped develop the TGA syllabus, points out that there are many things students learn while playing golf that have nothing to do with the sport. "They learn tenaciousness, that they must keep trying," she says. "They learn the etiquette of taking turns, decision making and a sense of integrity and honesty, since they have to keep their own score."
Champ Detamore, a PGA professional in Charlotte, N.C., has spent the last four years owning and operating the Charlotte-based TGA Premier Junior Golf franchise, which has become one of the largest junior golf programs in the Carolinas.
"The best way to grow the game of golf is not to concentrate on those already involved with the game, but give those not familiar with the game an opportunity to see how wonderfully fun and rewarding the game can be," said Detamore.  "What better arena to do this in than the school systems across the country."
Tom Addis, Executive Director of the Southern California PGA Section and former president of the PGA of America believes the TGA programs are very unique and by introducing young students to the game in schools it will have a positive long-term effect on the industry.
"TGA programs are unique because they are not only an 'after-school' program but an 'at-school' program that essentially brings the game of golf to the kids in a familiar and safe environment at school," explains Addis. "By introducing the game of golf in schools, the students get excited about the game, and have fun, and then begin frequenting local PGA facilities."
With academics woven into the program, school principals are excited about the potential of TGA Premier Junior Golf.
"We don't just like this program, we love it!" enthuses Jackie Sanderlin, principal of Foster Elementary School in Compton, Calif. "It brings a really nice focus to our school. The high achieving students as well as the ones with academic problems are involved, and the benefits of the program carry over to the academics, which is great."
Maxine Keith, principal of Brawerman Elementary School in Los Angeles,  agrees. "Our students have responded very positively to the program, which has been part of our after-school enrichment program for several years. We are very pleased to be associated with TGA; they are incredibly professional and work very hard for us and our students."
TGA Premier Junior Golf is one of the nation's fastest-growing junior golf programs and has become a golden franchise opportunity for self-starters who enjoy working with children in a business venture that provides a unique entry into youth sports, community involvement, education and the golf industry. TGA, through its newly formed TGA Foundation, is developing grant programs for under-resourced schools and is now reaching at-risk kids.
And word is getting out. Entrepreneur Magazine selected TGA among the "Top 10 Best Franchise Deals." The publication also selected TGA as one of the "Top Ten Children's Fitness Franchises" in the U.S.
TGA is a national supporting organization of the After School Alliance and Lights on After School and is a corporate advocate and partner of the President's Challenge on Physical Fitness as well as the National Council of Youth Sports. TGA's curriculums are also approved by the United States Golf Association (USGA) under the Rules of Amateur Status.
Visit www.golftga.com for more information. If you are interested in doing a story about this unique program and want to visit one of our after school programs, please contact us below. We also can provide high-resolution images for any story opportunties.