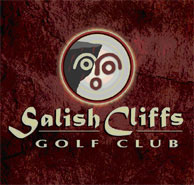 PGA TOUR Star Fred Couples to Headline Event on Sept 17; Open to Public On First-Come, First-Served Basis
(SHELTON, WA) – Little Creek Casino Resort today announces that Salish Cliffs Golf Club will debut Friday, Sept. 16, with tee-time reservations accepted starting Sept. 6 at www.salish-cliffs.com.
The much-anticipated, Gene Bates-designed golf course is an amenity of the award-winning resort, which is owned and operated by the Squaxin Island Tribe.
Fred Couples, who hails from nearby Seattle, will help commemorate Salish Cliffs' Grand Opening Weekend (Sept. 16-18), headlining an all-day, pay-to-participate event for the public.
"Salish Cliffs is a special course, one we hope golfers will rate among North America's finest," said Head Professional David Kass, PGA.
The championship golf course is the latest high-quality amenity offered by Little Creek Casino Resort, a destination leader in the region, offering upscale lodging, top entertainment acts, museum-like atriums with priceless, authentic Indian artwork, and much more.
Couples – who won the 1992 Masters and last week's Senior Players Championship – will be stationed on one of the holes, where he will meet and greet all 128 players during a first-come, first-served shotgun event. The cost for participating in the event – which also includes lunch and a clinic given by Couples – is $500 per twosome and $1,000 per foursome.
For more details, or to reserve a spot in the event with Couples, call Takara Thale at 360.432.7043. Limit of two foursomes per person.
Located 20 minutes from Olympia and 75 from Seattle, Salish Cliffs features a par-72, 7,269-yard layout with five teeing areas and a variety of holes that are as diverse as they are titillating.
"Salish Cliffs Golf Club represents the Squaxin Island Tribe's commitment to the highest quality possible, " said David Lopeman, Tribal Council Chairman. "It's an environmentally sensitive, beautiful course that we spent years ensuring was done in an exceptional fashion."
A sinewy, inspired course layout showcases dramatic elevation changes and 360-degree views of the Kamilche Valley. The Salish Cliffs clubhouse – which includes a full-service restaurant and pro shop – is an artistic wonder, with a wrap-around porch and mezzanine that overlook hole Nos. 9 and 18, which share a 15,000-square-foot green.
Public rates through September are $89 for 18 holes and $50 for nine, including green fees and cart (but not applicable tax). MVP Player's Card Holders will pay $84. The newest-model Titleist rental clubs will be available for $50 (18 holes) and $30 (nine holes).
Tee times can be booked up with a major credit card up to 10 days in advance at www.salish-cliffs.com. Advanced tee-time booking up to 60 days in advance is available for those with confirmed Little Creek Casino Resort hotel reservations by calling the golf shop at 360.462.3673.
About Little Creek Casino Resort
Owned and operated by the Squaxin Island Tribe, Little Creek Casino Resort features nearly 190 luxurious, well-appointed rooms.  The Indian-style gaming casino showcases more than 1,000 slots and table games, including poker, blackjack, craps, roulette and Texas Hold-Em. Top-quality, live entertainment — comedy, music and other shows — perform in the new, onsite Skookum Creek Event Center that hosts business and other events for up to 2,000 guests.
Getting there: Little Creek Casino Resort and Salish Cliffs Golf Club are conveniently located 20 and 75 minutes from Olympia and Seattle, WA, respectively.  It is also a quick ride from Yakima, WA as well as Portland, Salem and Eugene, OR. For more information:  www.salish-cliffs.com, 800.667.7711.