Covington, Ga. — Bridgestone Golf, the #1 Ball-Fitter in Golf, announces the arrival of its highly anticipated line of J40 Forged irons.  Arriving in time for the holiday season, the J40 line will be available at golf specialty stores and green grass retailers nationwide in October 2011. The new precision-forged J40 series offers two different iron models providing greater precision and softer feel for a variety of golfers.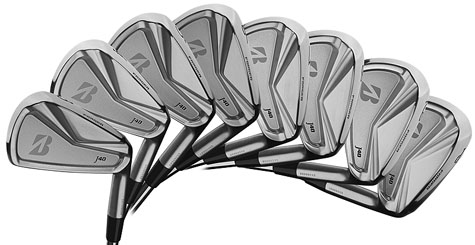 "The J40 irons deliver on everything iron enthusiasts have anticipated from our new launch and continue what has been loved about our product from the J33 series onward," said Corey Consuegra, Golf Club Marketing Manager, Bridgestone Golf, Inc.
J40 Forged Dual Pocket Cavity
Building on the innovative weight management system introduced by its predecessor, the J40 Forged Dual Pocket Cavity irons are designed for the serious player that demands a buttery feel and more traditional topline, but needs a bit more help with squaring the clubface at impact. The J40 Dual Pocket Cavity irons key design features include:
·      midsize head for producing a mid-to-high launch
·      revamped dual pocket cavity that provides increased Tour Stability by moving more discretionary weight to the perimeter, creating even higher MOI than the previous version
·      improved leading edge relief to help prevent digging in softer conditions
J40 Forged Cavity Back
The J40 Forged Cavity Back irons offer the ultimate balance between form and function.  The J40 Forged CB's striking good looks and clean traditional design is tailor made for better players who prefer a classy no-frills look and thin topline at address.  The J40 Forged Cavity Back irons key design features include:
·      compact head with higher face progression for a mid-height launch
·      unique v-cut cavity design that places more mass higher on the clubface for a higher center of gravity, resulting in a more controllable, penetrating ball-flight
·      tapered sole-design for more versatility in shot making, allowing players to 'work the ball' and more easily control trajectory
·      enhanced trailing edge relief for better performance from a variety of lies, especially out of the rough
"With the J40s, we now offer even better performance and cleaner aesthetics.  The J40 series truly reaffirms that Bridgestone is THE brand of choice for premium iron enthusiasts," said Consuegra.
Both sets of the J40 irons are premium forged from 1020 mild carbon steel for the ultimate in soft feel and feature conforming grooves for optimum distance and spin control. The new J40 irons come standard with the Tour-proven Project XTM flighted shafts. Both come standard in a set of 5-pw and feature a street price of $699 (MSRP $799). An additional 3-iron and 4-iron will be available uponrequest ($115 per club).
For more information on the J40 iron series and Bridgestone Golf's entire Fall 2011 product offering, visit www.bridgestonegolf.com.