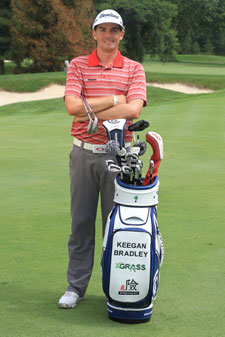 HUNTINGTON BEACH, CA – August 15, 2011 – Cleveland® Golf/Srixon® congratulates staffer Keegan Bradley for his victory at the 2011 PGA Championship.  Bradley, a PGA TOUR rookie, is the son of a PGA club professional and nephew of LPGA Hall of Famer Pat Bradley.  Keegan Bradley, playing in his first major, earned the Wannamaker Trophy and his second PGA TOUR title Sunday with a stunning come-from-behind playoff performance at the Atlanta Athletic Club, in Johns Creek, GA.  The 25-year-old Bradley, who trailed by five strokes with three holes to play, made two birdies in that stretch to finish in a two-way tie at 8-under 272, earning his way into a three-hole aggregate playoff.  Bradley birdied the first hole of the playoff to take a one-stroke lead, and then made back-to-back pars on the next two holes to seal the victory.
"Ever since I was 10 years old, I've kind of flown under the radar," said Bradley.  "I had what I thought was a pretty good college career, but I never really got noticed.  Same in junior golf and kind of the same out here.  It's cool to be thought of as one of those guys now.  I've always wanted, growing up, to win tournaments and win majors."
"This is another exciting win for Keegan, the Bradley family, and our family here at Cleveland Golf/Srixon," said Todd Harman, President of Cleveland® Golf/Srixon® -U.S.A.  "It's not very often that we see a rookie win twice on the PGA Tour, but when that second win comes in his first major, it makes quite a statement about the player and the equipment he chooses to play."
Bradley played a Cleveland® Launcher® Ultralite TL 310 driver (10.5°- Miyazaki™ Kusala Blue 61X), a Cleveland® Launcher® Ultralite FL fairway wood (14°- Miyazaki™ Kusala Black 83X), a Cleveland® Launcher® DST™ hybrid (18°), a Cleveland® Mashie™ TM3 (20.5°- Miyazaki™ C. Kua Hybrid 105X), Cleveland® CG7™ Tour irons (4-PW), CG14™ wedges (52°/ 58°) and a Srixon® Z-STAR™ ball, while wearing a Srixon® glove and carrying a Cleveland® Golf bag.
For more information on Cleveland® Golf/Srixon®, Never Compromise® and Cleveland Classics™ apparel or their staff players, please visit www.clevelandgolf.com, www.srixon.com, www.nevercompromise.com and www.clevelandclassicsapparel.com.