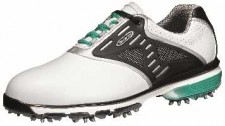 Westborough, Mass., August 15, 2011 – Etonic adds the new Difference golf shoe to its line-up for 2011-12 season. The Difference features an athletic-inspired design and the latest advancements in footwear technology. The Difference utilizes Outlast® and Micro Tech performance microfiber, allowing golfers to enjoy the game in comfort and style.
The Difference is lined with Outlast®, a NASA-engineered material that reduces heat andmoisture inside the shoe by more than 40 percent, keeping the foot cool and dry even in the hottest weather conditions. The upper is made of Micro Tech, a high-performance microfiber that reduces weight by 20 percent while providing a soft and supportive fit that does not lose its shape. The outsole features Etonic's best-in-class PowerUp Technology™ Outsole System, which provides superior traction, flexibility and stability.
The Etonic Difference is offered in two men's styles – a black saddle and a white/black/green saddle. The Difference carries a suggested retail price of $145 and will be available in golf shops and golf specialty retailers in November.
Difference Golf Shoe Highlights
UPPER
MicroTech Upper: microfiber linings promote improved lightness and durability
HydroGuard® waterproof breathable membrane
Two-year limited waterproof warranty
IN-SHOE
Outlast® linings for 40% heat reduction
Bellow tongue construction to keep out sand and debris
Removable 6 mm Polysport ™ anti-microbial footbed provides resilient cushioning and dry comfort
Laces provided in two different colors
OUTSOLE
PowerUp™ Outsole System featuring the Inside-Out Spike placement, PowerPod™, PowerPlay Flex Zones and Stabilizer Heel Technology™
TPU/EVA Power Up Outsole
Tri-Lok 9 Cleat Insert System
Zarma™ Spike by Champ®
How Outlast® Technology Works:
Products equipped with Outlast® phase-change material (PCM) balance temperature fluctuations. Outlast® technology is a special, patented formulation of Thermocule™ or microencapsulated phase-change materials that are applied to fibers, fabrics and coatings. These Thermocules™ continuously absorb excess body heat and release it to maintain a more constant body temperature. Outlast® reduces heat and moisture in the shoe's interior by nearly 50 percent, keeping the foot cool, dry, and very comfortable.
How PowerUp Outsole System Works:
The design of Etonic's PowerUp Outsole was inspired by the 33 percent of PGA Tour players that continue to use steel spikes to maximize traction and power transfer to the ball. Since its introduction in 2008, PowerUp Technology has received outstanding accolades from consumers and golf specialty retailers alike. The Difference has four components to its PowerUp Outsole –  Inside-Out Spike placement™, PowerPod™, PowerPlay Flex Zone™ and Stabilizer Heel Technology™. Each component works with the foot's natural anatomy to maximize traction, flexibility and stability and to improve balance while maximizing power transfer to the ball.
Founded in 1876 by Charles Eaton and headquartered in Westborough, Mass., Etonic builds footwear based on technical innovation, superior quality and ultimate comfort. Etonic offers men's and women's footwear and accessories for golf, running and bowling. For information on Etonic call 1-866-8-ETONIC (386642) or visit www.etonic.com.