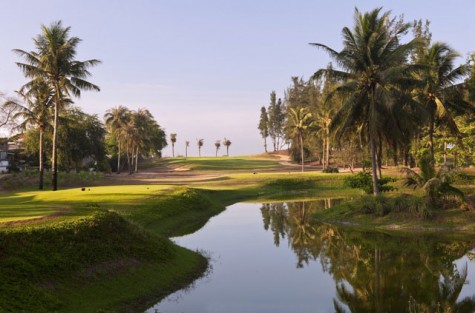 PHAN THIET, Vietnam ˜ Ocean Dunes Golf Club turns 15 years old this year, and while the club has rolled out myriad promotions and course improvements to mark the occasion, this particular rite of passage also bears a larger significance in Vietnamese golf.
Designed by Sir Nick Faldo, Ocean Dunes was the first golf course in Vietnam laid by one of golf design's household names. It was the first new course built outside the hubs of Ho Chi Minh City and Hanoi, and so the first to take advantage of the country's long, sandy coast line. It was the first golf property to feature luxury accommodations on site, the Novotel Phan Thiet ˜ and it remains one of the few golf resorts in the country to offer this amenity.
Ocean Dunes opened for play in 1996, but its development "deal" was struck three years prior, making it one of the very first foreign investments in a country closed to such things for 30 years.
"At that time, you've got to remember, a joint venture between a foreign company and a People's Committee ˜ in Binh Thuan Province, no less, way outside the traditional commercial centers ˜ was unheard of," said Ocean Dunes General Manager Glenn Cassells, an Australian whose professional experience in Vietnam dates back to 2000. "The development of Ocean Dunes was a truly ground-breaking achievement. It laid a foundation for all the new golf courses Vietnam has seen developed since, and all those being developed right now."
While Ocean Dunes has been pivotal in ushering in the modern era of Vietnamese golf expansion, it remains among the very best courses in its own right. It is home to the Vietnam Open Championship, the only course to ever hold the event. It is regular host of the Faldo Series Asia, only the most prestigious junior golf series in all of Asia.
Indeed, the Faldo Series Asia championship finale is held every year at Mission Hills, in southern China. Ocean Dunes has just struck a reciprocal membership deal with Mission Hills, making it the first and only Vietnam club so designated.
"All this really is a tribute to the enduring quality of the golf course, to the design by Sir Nick Faldo, and to Danao International Holdings' enlightened ownership," Cassells said. "The country's 'first modern resort course' has since been joined by many others, of course, but thanks to inspired design and planning, the charms of Ocean Dunes have remained constant. They read like a checklist for a challenging, fun golf experience really."
Faldo's 6,725-yard, par-72 design plays differently each day depending on the regularly changing conditions, especially the wind here hard by the East Sea. It requires a variety of shots but offers multiple options for achieving the desired results on any given shot ˜ a bump-and-run versus a high lob to the inventively protected greens, for example. At 5,267 yards from the forward-most tees, the course is perfectly suited to women.
All this has made Ocean Dunes a favoured venue for group events ranging from just-for-fun charity outings to 14 consecutive installments of the Vietnam Open. The clubhouse, restaurant, and lounge ˜ intimate and welcoming rather than grandiose  ˜ contribute to the club's allure, with outdoor dining spaces at the Novotel next door ready to accommodate larger functions.
All this was on display the last weekend in May when Ocean Dunes held its Club Championship, the longest running such club event in Vietnam.
The men's champion proved to be Tran Ngoc Hung, who finished with a sterling 152 over two days. Ha Duy Hung finished in runner-up position, having posted 154. Pham Thi Thu Hoa won the ladies' champion with a 183. Kim Kyu earned the men's net title with 138, while Tam Israel took women's honors with 141.
Ocean Dunes Club Championship weekend is more a festival of golf than a mere tournament, with its many divisions, diversions (closes-to-the-pin, longest drive, straightest drive contests each day), gala banquets and lucky draws. There is even a special division for non-members, so that guests might join equally in the fun.
"It's actually quite instructive to spend time with members and their accompanied guests during an event like the Club Championship," Cassells said. "If you park yourseld behind the 9th green, or on the 13th tee, it's wonderful to see the reactions of guests when they first encounter the East Sea and the wide vistas of surf and sand."
Cassells refers to the spectacular 9th, an uphill par-3 of 148 yards to a green set amid the dunes with the East Sea horizon as backdrop. Recently named the country's best par-3, it's also been called out as one of the top 500 holes in the world. Meanwhile, the only thing separating the par-4 13th from the beach is a line palm trees.
"You don't just see the ocean at 13, you hear it," Cassells said. "We have some members who have been with us since the very beginning. They know the course so well, a scene like that can become commonplace. So it's a real delight for members to bring guests and experience Ocean Dunes through different eyes. It fills them with pride."