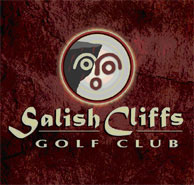 (SHELTON, WA) – The highly anticipated unveiling of the brand new Salish Cliffs Golf Club – the latest amenity of the Squaxin Island Tribe's Little Creek Casino Resort – is imminent with an opening date likely coming next month.
"We're thrilled Salish Cliffs is ready for play and we look forward to opening what we strongly believe will be one of the best golf experiences in the country," said Salish Cliff's Head Professional David Kass, PGA.
Located within a short drive from Olympia and Seattle, Salish Cliffs Golf Club (www.salish-cliffs.com) is a par-72, 7,269-yard championship layout providing an intimate setting with 16 of 18 holes encircled by lush forestry.
Salish Cliffs was created by renowned golf-course architect Gene Bates and rolls through natural vegetation and rock facings. The course boasts 360-degree views of the Kamilche Valley and dramatic elevation changes, including the par-4 12th hole with a tee box that sits on the property's apex, some 650 feet above sea level.
All 18 holes and the driving range/practice facility feature T1 bentgrass turf. The log and cedar clubhouse – which reflects the style and structure of Little Creek Casino Resort –  sits next to a deep ravine and its wrap-around porch and mezzanine will overlook hole Nos. 9 and 18, which share a 15,000-foot green. The clubhouse also plans to include a full-service golf shop and restaurant.
Salish Cliffs has five sets of tees. The black "tips" received a rating/slope of 74.6/137 from the USGA while the 5,313-yard forward tees come in with a 70.7 rating and 125 slope.
Other news from Salish Cliffs Golf Club:
Putting Surfaces In Great Shape: With the expected late summer opening, Head Superintendent Bob Pearsall and his staff aerated the Salish Cliffs greens in early July, instead of waiting for September, a plan most area courses utilize.
"The greens are already nearly fully recovered and we expect them to be in pristine condition through the remainder of the golf season," said Pearsall, a native of Olympia who has hired last summer and played a major role in the course's grow-in.
Home Sweet Home for Assistant Golf Professional: Adding further local flavor to the Salish Cliffs staff is Assistant Golf Professional Chris Koch, who grew up in nearby Lacey, Wash.
The 28-year-old graduate of Timberline High School and Western Washington University began his new position in June after spending the last five seasons at Ko Olina Golf Club in Oahu, Hawaii.
"The opportunity to come home and be part of a brand new golf course of this caliber made this an easy decision," said Koch, who will give lessons at Salish Cliffs and plans to integrate a junior program similar to the one he directed in Hawaii. "I'm excited to be part of a team that will do everything in its power to help Salish Cliffs become a world-class golf facility."
Get One Night Free at Little Creek Casino Resort: Salish Cliffs Golf Club sits adjacent to Little Creek Casino Resort, which recently completed a hotel expansion and an enhancement of the casino floor.
The resort is currently offering a "Stay Two Nights for the Price of One" special where a two-night stay is just $109, Sundays through Thursdays. Must be a Player's Club member to participate.
For more information, or to book your reservation at Little Creek Casino Resort and become one of the very first golfers to play Salish Cliffs, call 1.800.667.7711 or visit (www.salish-cliffs.com).
About Little Creek Casino Resort
Owned and operated by the Squaxin Island Tribe, Little Creek Casino Resort features nearly 190 luxurious, well-appointed rooms.  The Indian-style gaming casino showcases more than 1,000 slots and table games, including poker, blackjack, craps, roulette and Texas Hold-Em.  Top-quality, live entertainment — comedy, music and other shows — perform in the new, onsite Skookum Creek Event Center that hosts business and other events for up to 2,000 guests.
Getting there: Little Creek Casino Resort and Salish Cliffs Golf Club are conveniently located 20 and 75 minutes from Olympia and Seattle, WA, respectively.  It is also a quick ride from Yakima, WA as well as Portland, Salem and Eugene, OR. For more information:  www.salish-cliffs.com, 800.667.7711.