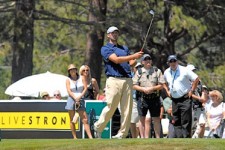 (Stateline, Nev.) – Tony Romo, the star quarterback of the Dallas Cowboys and renowned amateur golfer, has been installed by the Harrah's & Harveys Lake Tahoe Sports Book as co-favorite to win the 22nd annual American Century Championship (www.tahoecelebritygolf.com) celebrity golf tournament, which takes place July 15-17 at Edgewood Golf Course and is broadcast live on VERSUS (July 15, 4-7pm ET) and NBC Sports (July 16 & 17 3-6pm ET).
Romo joins eight-time champion and longtime favorite Rick Rhoden at 5-2 atop the board at Harrah's & Harveys, which makes odds on the event each year as the official host hotel and sports book. Legal wagering on all the players plus selected head-to-head match ups are available each year at Harrah's & Harveys and in casinos throughout Nevada. Last year, Rhoden was the pre-tournament favorite at 9-5 and Romo was the second choice at 5-2.
*** FULL ODDS LIST BELOW***
The Cowboys signal-caller finished second in 2009 and 2010 and third in 2008. Among Rhoden's eight wins are the 2008 and 2009 titles.
Following Romo and Rhoden on the 2011 board are last year's winner and three-time champion Billy Joe Tolliver at 4-1 plus other top-tier notables John Smoltz (5-1), Grant Fuhr (8-1), John Elway (10-1), Marshall Faulk and Jerry Rice (20-1), Tim Tebow (25-1) and Michael Jordan (40-1). The longest shot among the 80-plus golfers is Charles Barkley at 500-1.
"Romo will be playing in his fifth tournament and he is getting more and more comfortable with the course, the live galleries and the live network TV environment," offered Harrah's & Harveys Sports Book director Steve Schorr. "It's clear that he wants to win this tournament."
Golf Digest magazine ranked Romo as the number one pro athlete golfer in the country in 2009. He reached the second round of the Wisconsin State Amateur match play tournament and has a host of amateur and celebrity tournament titles on his resume.
Rhoden, the former pitcher for seven major league teams, has won over $1 million in prize money at the American Century Championship and has been favored each year since he won the tournament in 1991, the second year of competition. Rhoden was No. 1 on Golf Digest's 2007 ranking of athlete-golfers but was removed from the 2009 list after earning his playing card on the PGA Champions Tour. Rhoden is no longer playing on the PGA Champions Tour and still sets his sights on the Tahoe title each year.
Photo Credit: Jeff Bayer
FULL LIST OF ODDS
6001   TONY ROMO                          5/2
6002   RICK RHODEN                       5/2
6003   BILLY JOE TOLLIVER           4/1
6004   DAN QUINN                             5/1
6005   JOHN SMOLTZ                       5/1
6006   GRANT FUHR                         7/1
6007   JEREMY ROENICK                7/1
6008   JACK WAGNER                      8/1
6009   MIKE MODANO                    10/1
6010   BRETT HULL                        12/1
6011   CHRIS CHANDLER              12/1
6012   MARK RYPIEN                      12/1
6013   JOHN ELWAY                       12/1
6014   TRENT DILFER                     12/1
6015   JERRY RICE                          15/1
6016   STERLING SHARPE            15/1
6017   MARSHALL FAULK             18/1
6018   JOE THEISMANN                 18/1
6019   MARTIN BRODEUR             18/1
6020   KEN WHISENHUNT             20/1
6021   ANDY PETTITTE                  20/1
6022   JOE SAKIC                            20/1
6023   VINCE COLEMAN                22/1
6024   DALE JARRETT                   25/1
6025   MATT SCHAUB                    30/1
6026   JARED ALLEN                      30/1
6027   GREG MADDUX                   30/1
6028   JIM HARBAUGH                   30/1
6029   TIM TEBOW                          30/1
6030   GOOSE GOSSAGE              30/1
6031   BRET SABERHAGEN          30/1
6032   MICHAEL JORDAN              40/1
6033   RAY ALLEN                           40/1
6034   MATT RYAN                         40/1
6035   ALFONSO RIBEIRO             40/1
6036   VINNY DEL NEGRO             40/1
6037   TODD HALEY                       50/1
6038   JIMMER FREDETTE            50/1
6039   AARON RODGERS              50/1
6040   PAUL O'NEILL                      50/1
6041   FRED MCGRIFF                    50/1
6042    MASON CROSBY                 50/1
6043   ANFERNEE HARDAWAY    50/1
6044    JIM MCMAHON                    50/1
6045    JOE CARTER                        60/1
6046   CARSON PALMER               60/1
6047   DAN QUAYLE                       60/1
6048   OLIVER HUDSON                 60/1
6049   STEVE SPURRIER               60/1
6050   KENNY LOFTON                  75/1
6051   WES WELKER                    100/1
6052   ARIAN FOSTER                  100/1
6053   OZZIE SMITH                      100/1
6054   RONDE BARBER               100/1
6055   DERON WILLIAMS             100/1
6056   MARCUS ALLEN                100/1
6057   DAN JANSEN                      100/1
6058   SHANE BATTIER               200/1
6059   JAMIE WIDDOES                200/1
6060   JACK DEL RIO                    200/1
6061   EMMITT SMITH                  200/1
6062   TRENT GREEN                   200/1
6063   JOHN O'HURLEY               200/1
6064   MIKE ERUZIONE                200/1
6065   HERM EDWARDS              200/1
6066   JASON KIDD                       200/1
6067   BODE MILLER                    200/1
6068   BRIAN BAUMGARTNER   200/1
6069   BRUCE MCGILL                 200/1
6070   DAN PATRICK                    300/1
6071   RAY ROMANO                    300/1
6072   LOU HOLTZ                        300/1
6073   DENNIS HAYSBERT          300/1
6074   KEVIN NEALON                  500/1
6075   CHARLES BARKLEY         500/1
6076   FIELD (ALL OTHERS)          20/1