COBRA GOLF UNVEILS THE FIRST EVER SMART SET IN GOLF WITH NEW KING F8 FAMILY
The KING F8 and F8 ONE Length Irons Deliver Distance, Feel, Forgiveness and 'Smart' Connectivity Like Never Before; At Retail Feb. 2, 2018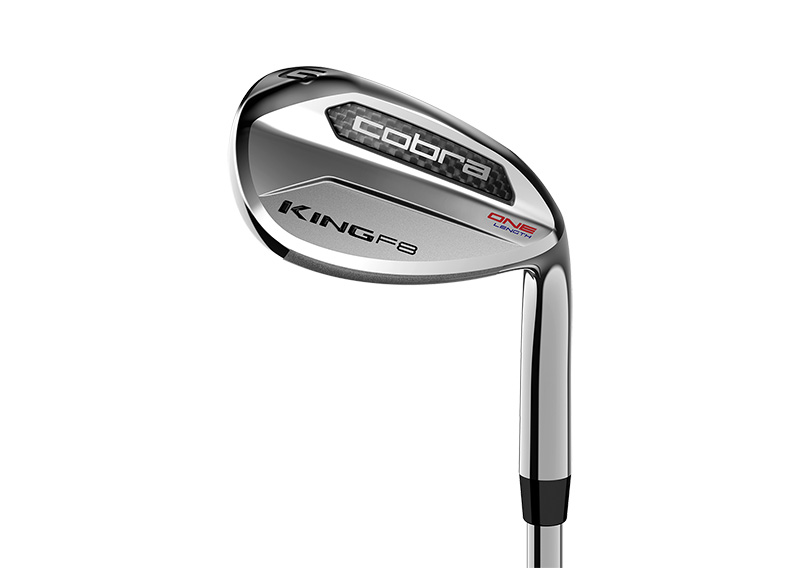 Carlsbad, Calif. (Nov. 16, 2017) Cobra Golf today introduced its F8 irons, pushing the boundaries of innovation through the use of electronically enabled grips in each club, allowing golfers to track their performance with COBRA CONNECT™ Powered by Arccos technology. Thanks to game-changing construction technologies, including PWRSHELL™ Face Technology for increased speed and launch, Carbon Feel Technology for exceptional sound and feel, and TECFLOTM Progressive set construction for tailored performance throughout the set, COBRA'S F8 irons equip golfers with a dominant blend of distance, speed, and best-in-class feel, while COBRA CONNECT™ provides Tour level analytics to help golfers improve. 
In addition to the drivers, fairways and hybrids, all KING F8 irons will feature the innovative COBRA CONNECT™ Powered by Arccos System to help players make smarter, data-driven decisions to improve their game. Electronically embedded sensors in the grip automatically record the distance and accuracy of every shot so golfers can track their improvements round-to-round. The fully connected set works in conjunction with the award-winning Arccos 360 smartphone application, which provides advanced rangefinder GPS distances for more than 40,000 courses.
Consumers who purchase a standard 7-piece set of F8 irons in any configuration (iron or combo sets) will also receive additional Arccos 360 screw-in sensors to round out their 14-club set, ensuring that consumers have a fully connected experience.
"Our 2018 iron offering is truly ground-breaking, as it provides not only innovative technologies to achieve better performance across the board, but also the wherewithal to actually quantify just how much better, thanks to COBRA CONNECT," said Tom Olsavsky, Head of R&D for COBRA Golf.  "Our F8 line offers an innovative solution for both the players who trust their games to variable length irons and also for the growing contingent of golfers who have realized the benefits of our ONE length set up."
Headlining COBRA's 2018 iron lineup are the KING F8 and KING F8 ONE Length™ Irons featuring an all-new E9™ PWRSHELL™ Face Technology that boasts a 20% thinner forged face.  An E9™ elliptical Sweet Zone™ construction promotes faster ball speeds across a wider area on the face, delivering unparalleled distance and forgiveness.  Both models feature Carbon Feel Technology inserts that are strategically-positioned to deliver a soft yet solid feel throughout the set. New all Carbon Fiber construction medallions dampen vibrations for exceptional sound and feel throughout the set. 
COBRA's patented TECFLOTM Progressive Set Construction Technology delivers tailored performance through varying cavity constructions to optimize the trajectory of each iron in the set, while Progressive Spin Technology improves groove structures through CNC milling to deliver optimum spin and trajectory performance from the long irons to wedges. A full hollow design in the long and mid irons (4-7) delivers low CG with an extremely responsive face for easier to hit, high-flying shots, while Milled V-Grooves reduce spin for maximum distance. In the mid to scoring irons (8-PW), a cavity back design delivers more accuracy on approach shots, meaning more greens-in-regulation and shorter birdie putts and Milled U-Grooves optimize spin for improved control and accuracy.  A specialty wedge design in the GW, SW and LW provides improved feel and precision around the greens with tighter-spaced wedge grooves to increase spin for more precision. Progressive hosel lengths strategically position the CG for optimum launch throughout the set. Lower profile long irons, with shorter hosels, lower CG for improved launch and forgiveness. Progressively taller hosels in the scoring irons position CG higher and more forward in the clubhead for improved trajectory control and accuracy into greens.
To build upon COBRA's widely-acclaimed KING F7 ONE Length irons, COBRA engineers incorporated unique TECFLO constructions in the F8 ONE Length irons that allowed them to manipulate weight to 7-iron specifications while keeping the look of a traditional iron, delivering the most technologically advanced ONE Length irons to date. 
Improved trajectories were achieved using progressive hosel lengths paired with wider sole widths in the 4-6 irons to lower the CG in the long irons for higher-flying trajectories, and raise the CG in the scoring irons & wedges to promote lower, more controlled trajectories.  In addition, COBRA has teamed up with its shaft partners to develop ONE Length specific flighted shafts that feature variable tipping executions to make the long irons play softer and launch higher and the short irons play stiffer and launch lower. 
"Overall, I'd say the F7 ONE Length was a great surprise for us this year, surpassing all sales forecasts we had at the outset, and Bryson DeChambeau's impressive win at the John Deere Classic this summer certainly helped generate even more interest," said Olsavsky. "Now, as more players take note of the benefits provided by a ONE length set, we are excited to deliver the F8 line-up, with cutting-edge iron technologies that work in unison with the one length philosophy to make them even easier to hit and more consistent than before. And even better, with COBRA CONNECT, golfers don't have to just take our word for it. They can clearly see just how much they've improved based on real data points. The numbers don't lie." 
The new KING F8 variable length irons are available in a variety of stock set options (others are available in custom)
Men's Steel Irons (MAP: $799) – 7-piece set that utilizes a Lamkin REL 360 (Tour Taper, CONNECT) grip; True Temper XP 90 steel shaft; includes 5-PW, GW and is available in both RH and LH versions in regular and stiff flexes.
Men's Graphite Combo Set (MAP $999) – 7-piece set includes 5H, 6-PW, GW available in RH only in Regular and Lite flexes. Utilizes a Lamkin REL (Tour Taper, CONNECT) grip and Aldila Rogue Pro 65 Graphite shaft.
Women's Graphite Combo Set (MAP $999) – 7-piece set includes 5H, 6H, 7-PW, SW – features the same innovative technologies found in the men's irons including COBRA CONNECT. The ladies stock combo set in RH only, (LH through custom) features COBRA Lamkin REL 360 (COBRA CONNECT silver/pink or black/blue grips) and Aldila Rogue 60 gram graphite shafts.
The KING F8 ONE (MAP: $799 steel; $899 graphite through custom) will be available in both RH and LH versions, in a 5-PW, GW standard set make-up. F8 ONE comes stock with Lamkin Crossline 360 (Tour Taper; COBRA CONNECT Blue/Red) grips and in either Aldila One Rogue 65 (graphite – stiff, regular, lite) or True Temper ONE Flighted (steel – stiff and regular) shaft options.
Complementing the F8 ONE LENGTH Irons, COBRA is introducing the industry's first-ever ONE LENGTH Hybrid.  The KING F8 ONE LENGTH Hybrid features revised weighting and CG, an upright lie angle, and increased head weight to match the ONE Length irons.
The Men's KING F8 ONE Graphite 7-piece Combo Set (6-GW, 5H) is available in RH only at a retail price of $999 in Reg/Lite flex. Features a Graphite Aldila Rogue Pro ONE Length 65 shaft and Lamkin REL 360 (Tour Taper/CONNECT Blue/Red) grip.
The entire family of KING F8 Irons will be available at retail beginning February 2, 2018.  For more information on the entire KING family of products, visit cobragolf.com. Join the conversation using #CobraCONNECT and #KINGF8.