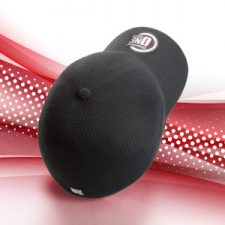 BOURBON, MO – Imperial Headwear, the #1 headwear brand for Private and Resort golf facilities as reported by the Association of Golf Merchandisers (AGM) in their 2016 Member Survey, announced the launch of its new ONE TOUCH® technology at the 2017 PGA Merchandise Show on January 25-27 at Orange County Convention Center in Orlando, Florida.
ONE TOUCH® is a proprietary cap design offered to the green grass market for custom headwear exclusively by Imperial. The manufacturing process uses a unique knitting technique to create fabric in a rounded shape, and therefore removes the need for multiple panels and seams on the crown. The result is one single continuous panel that fits perfectly to the head.
"I was able to review a few ONE TOUCH® by Imperial prototypes this past Fall and was very impressed with the design concept and clean lines," said Laura Robinson, director of retail at Pinehurst Resort in Pinehurst, North Carolina. "Imperial continues to impress me with their innovation in the headwear category."
"Imperial's new ONE TOUCH® hats are just what retailers in the golf
industry should be looking for this season," said Benji Boyter, merchandise manager at The Sea Pines Resort in Hilton Head, South Carolina. "The combination of a compelling product story and an amazing fit with a unique one panel construction will definitely resonate with my guests."
Imperial will be launching ONE TOUCH® in the following styles for a May 1 start ship and subsequent at once delivery:
The Continuum (OT001) features a 100% textured diamond weave poly performance fabric in an OSFM flexible fitted cap.
The Freestyle (OT002) features a 100% poly mini-pique on the crown of the cap and a heathered jersey performance poly fabric on the visor in an OSFM flexible fitted cap.
The Kinetic (OT003) features a 100% textured performance polyester fabric in an OSFM flexible fitted cap.
The Marvel (OT004) features a 100% textured honeycomb weave polyester fabric in an OSFM flexible fitted cap.
For more information about Imperial Headwear please visit ImperialSports.com, contact your local sales representative or call (800) 950-1916.
About Imperial Headwear
Founded in 1916, Imperial Headwear is the leading manufacturer and marketer of premium quality headwear for the golf market. Imperial is committed to style, functionality and perfection in fit and comfort. It is this commitment that has allowed the creation of a wide variety of headwear with quality that is second to none. Renowned for its superior customer service and art customization capabilities, Imperial offers its products using the most innovative fabrics and designs, as well as logo and embroidery technologies. For further information please visit imperialsports.com or call (800) 950-1916. Follow Imperial Headwear on Twitter and Instagram at @ImperialHats and on Facebook at facebook.com/ImperialInc. Imperial Headwear's 100th Anniversary video can be viewed at https://vimeo.com/131945482.