Premium Layering Pieces Feature Rich Merino Wool, Tailored Look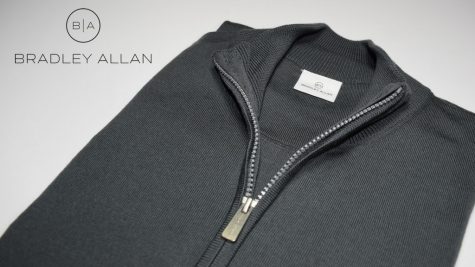 (Toronto, Canada) – BRADLEY ALLAN – sophisticated, modern golf apparel designed for the golf course and beyond – announces its premium merino wool quarter-zip sweaters are now available at www.bradley-allan.com.
A fresh take on a cool-weather golf staple, the BRADLEY ALLAN quarter zip is crafted from lightweight, 100-percent superfine merino wool in a silhouette that promotes a trim look when layering. Available in graphite and black colorways, the sweaters retail for $109.
"Like all BRADLEY ALLAN garments, this is an update to the traditional quarter zip with a fabrication and design that works as well off the course as on it," says Brad Franklin, Founder and Creative Director of BRADLEY ALLAN. "The lightweight merino is incredibly soft, yet durable to resist pilling when carrying a golf bag and the clean fit lessens bulk to compliment all body types."
Additional BRADLEY ALLAN offerings include the brand's signature range of polos ($79-$89) that blend soft Pima cotton and technical fabrics, and shorts ($79) and pants ($94) crafted from a lightweight cotton-polyester blend with a hint of stretch for enhanced cooling and comfort.
From veteran designer Brad Franklin, BRADLEY ALLAN celebrates classic designs while emphasizing a modern fit, innovative fabric blends and seamless transition to everyday wear. Drawing inspiration from current menswear trends, BRADLEY ALLAN allows golfers to enjoy technical performance without sacrificing their personal style.
For more information visit www.bradley-allan.com
About BRADLEY ALLAN
Sophisticated modern golf apparel crafted to transcend the game, BRADLEY ALLAN represents a refreshing new direction. Created by true patrons of the sport, the line is rooted in golf's traditions yet informed by the present.
Utilizing premium technical fabrics, fine details and subtle textures, Founder and Creative Director Brad Franklin works from a design ethos that fuses a refined aesthetic with exceptional functionality.
Franklin's vision is expressed across a focused range of polos, knits, layering pieces and bottoms. Boasting a rich hand and proper fit, each distinctive garment is crafted to become a staple in a player's wardrobe, now and for years to come.
Efficiently produced by some of the world's most skilled boutique manufacturers, BRADLEY ALLAN offers a price-to-quality ratio that is second to none.