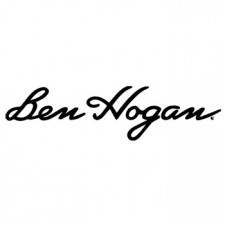 Company's proprietary technology now provides precise iron, wedge and hybrid fittings
FORT WORTH, TEXAS, June 8st, 2016 – The Ben Hogan Golf Equipment Company today announced a significant expansion of its online HoganFit™ clubfitting process. A visit to the new Ben Hogan Online Performance Center first offers each golfer a complete Bag Mapping Analysis, which provides an insightful look into the actual technical aspects of the golfer's current set make-up. From there, the golfer can choose to see "Ben Hogan Solutions" in a virtual clubfitting experience to re-working any aspect of their set make-up.
Once the Bag Mapping Analysis is completed, the golfer can choose from any of four areas of fitting:
· WedgeFit™- Recommends the exact matrix of Ben Hogan TK wedges to seamlessly blend to the golfer's current iron set, selecting from the Company's offering of 20 individual lofts from 44 to 63 degrees.
· IronFit™- Prescribes Ben Hogan FT. Worth, FT. Worth hi combo or PTx irons based on the golfer's preference for distance, forgiveness, and workability, with each set accurately matched to the golfer's launch angle tendencies and preferences.
· HybridFit™- Prescribes the right loft matrix of hybrids to optimize gapping and long-range performance, choosing from eleven different VKTR hybrids from 17 to 27 degrees of loft.
· HoganFit™- Offers a full-bag custom solution of irons, wedges and hybrids, based on each golfer's individual preferences and skills, with the goal of optimizing performance through the entire bag.
"Our company's values and our passion for precision are founded on Mr. Hogan's relentless pursuit of perfection," said Terry Koehler, President/CEO of The Ben Hogan Golf Equipment Company. "Our new Ben Hogan Online Performance Center is very sophisticated and is the first step to optimizing a golfer's 'tool box' for better golf."
The entire Ben Hogan product line is based on giving each golfer the exact loft matrix in their hybrids, irons and wedges that will optimize their tee-to-green performance. The Company's commitment to precision is illustrated by the fact that each of the three iron models is crafted in every loft of iron from 20 to 47 degrees, which can be configured into any of four different sequences to fit any golfer's launch tendencies and preferences. The TK wedges are available in every loft from 44 to 63 degrees, and the VKTR hybrids in any loft from 17 to 27 degrees.
"Ben Hogan was meticulous in the way he did everything," explained Terry Koehler. "We believe he would be very proud of the extremes we have taken to provide golfers with this level of precision in assembling just the right set of clubs to get the most out of their own hard-earned skills.
"We created the Online Performance Center's Bag Mapping Analysis to illustrate to any golfer the disparate loft gapping throughout his or her set that is the result of the industry's relentless pursuit of distance at any cost. From that understanding, golfers quickly appreciate how we have applied our technologies to re-align the set for improved accuracy and distance control, which leads to better shotmaking."
The Ben Hogan Online Performance Center can be found at BenHoganGolf.com.
About Ben Hogan Golf Equipment Company
The new Ben Hogan Golf Equipment Company was founded in April of 2014 to bring the vaunted Ben Hogan brand and standards back to the golf equipment industry. Based in Fort Worth, Texas, only a few miles from the original Ben Hogan facility, Ben Hogan Golf Equipment once again is focused on providing discerning golfers with the most accurate and precise equipment available. The new Ben Hogan Golf Equipment Company senior management shares over 130 years of experience from the original Ben Hogan Company, including manufacturing, product development, sales and marketing.