Polos, Bottoms, Accessories Feature Modern Fit, Refined Fabrics and Exceptional Versatility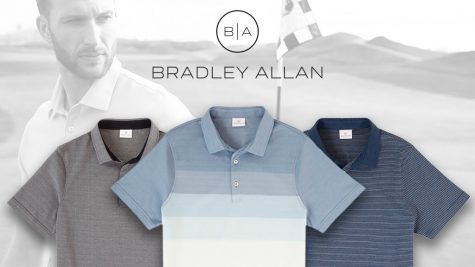 (Toronto, Canada) – BRADLEY ALLAN – sophisticated, modern golf apparel designed for the golf course and beyond – debuts its line of premium men's polos, shorts, pants, sweaters and accessories.
From veteran designer Brad Franklin, BRADLEY ALLAN celebrates classic designs while emphasizing a modern fit, innovative fabric blends and seamless transition to everyday wear. Drawing inspiration from current menswear trends, BRADLEY ALLAN allows golfers to enjoy technical performance without sacrificing their personal style.
"Designing for world-class brands and learning from amazing people has prepared me to now explore an opportunity I see in the marketplace," says Brad Franklin, Founder and Creative Director of BRADLEY ALLAN. "Amid so many athletic looks, I was having a hard time finding on-course performance that aligned with my off-course aesthetic. This is the void BRADLEY ALLAN intends to fill."
The core of BRADLEY ALLAN is a range of polos ($79-$89) that blend soft Pima cotton and technical fabrics for a rich hand with superb moisture management. A modern fit – not boxy or too slim – suits all body types in sleeve length and across the chest. A sophisticated color palette and thoughtful details easily shift to business or casual settings.
Additional BRADLEY ALLAN offerings include shorts ($79) and pants ($94) crafted from a lightweight cotton-polyester blend with a hint of stretch for enhanced cooling and comfort. For early morning rounds a superfine merino quarter-zip sweater ($109) provides a slim silhouette and regulates body temperature via wool's natural performance.
For more information visit www.bradley-allan.com
About BRADLEY ALLAN
Sophisticated modern golf apparel crafted to transcend the game, BRADLEY ALLAN represents a refreshing new direction. Created by true patrons of the sport, the line is rooted in golf's traditions yet informed by the present.
Utilizing premium technical fabrics, fine details and subtle textures, Founder and Creative Director Brad Franklin works from a design ethos that fuses a refined aesthetic with exceptional functionality.
Franklin's vision is expressed across a focused range of polos, knits, layering pieces and bottoms. Boasting a rich hand and proper fit, each distinctive garment is crafted to become a staple in a player's wardrobe, now and for years to come.
Efficiently produced by some of the world's most skilled boutique manufacturers, BRADLEY ALLAN offers a price-to-quality ratio that is second to none.