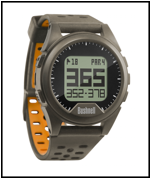 THE NEW BUSHNELL neo iON GOLF GPS RANGEFINDER WATCH EXPANDS THE FAMILY OF INNOVATIVE GOLF MEASURING DEVICES
Sleek and Comfortably Designed, Bushnell neo iON is
the Next Generation of Distance Made Simple
Overland Park, KS, January, XX, 2016 – Bushnell Golf, #1 in Electronic Measuring Devices, unveiled the next generation of distance made simple golf products with the introduction of the neo iON Golf GPS Watch.
The neo iON, Bushnell's lightest and thinnest golf watch, has been redesigned to meet the ever-changing needs of golfers wanting wrist-mounted devices and comes pre-loaded with more than 35,000 courses in over 30 countries. In addition, it's equipped with a new integrated step counter and charging clip design while boasting market-leading battery life. The neo iON is an easy-to-use GPS rangefinder with instant yardage measurements in a simple, fashion-forward design and with no membership fees.
"Creating Tour-trusted technologies is a priority, but we also understand everyday golfers want those exclusive technologies available in an easy-to-use watch," said Scott Peterson, Senior Product Manager at Bushnell. "With the popularity of wearable technology on the golf course, we created the fashion-forward, user-friendly neo iON with improved technologies providing golfers the ability to enhance their game at an affordable price."
Neo iON's predecessor, The NEO-XS, offered golfers more battery life than any other GPS watch on the market. Now, the neo iON takes it one step further by delivering an even longer battery life, expected to last for more than three rounds of golf, and even more benefits such as a shot distance calculator, pedometer, odometer and the ability to decipher up to four hazards per hole.
The neo iON Golf GPS Watch is capable of instantly recognizing courses. It features an auto-hole advance feature which automatically changes from one hole to the next. A new integrated step counter has been added allowing the golfer to track distance, speed, and total activity time throughout their round of golf.
Play Longer:
Over three rounds between charges
Ready for Play:
Over 35,000 courses worldwide preloaded for instant use
Smart Round Features:
Instant course recognition and auto hole advance
Easy-to-read front/center/back distances
Hazard layup distances (up to four per hole)
Shot distance calculator
Round time and distance traveled information
New integrated step counter
Odometer
New charging clip
Standard band size (can use after market watch bands)
The neo iON Golf GPS Watch will be available at Bushnell retailer's nationwide in March, with a retail price of $199.99.
Bushnell, the #1 choice of professional golfers, offers a full array of rangefinders, which continue to change and improve the way golfers assess distances, ultimately improving performance.
For more information on the Bushnell family of rangefinders, visit the company's website at www.bushnellgolf.com. To obtain images of the neo iON Watch, please go to www.bushnellgolfpr.com.
About Vista Outdoor
Vista Outdoor is a leading global designer, manufacturer and marketer in the growing outdoor sports and recreation markets. The company operates in two segments, Shooting Sports and Outdoor Products, and has a portfolio of well-recognized brands that provide consumers with a range of performance-driven, high-quality and innovative products in the ammunition, firearms and outdoor products categories. Vista Outdoor products are sold at leading retailers and distributors across North America and worldwide. Vista Outdoor is headquartered in Utah and has manufacturing operations and facilities in 10 U.S. States, Puerto Rico, Mexico and Canada along with international sales and sourcing operations in Canada, Europe, Australia, New Zealand and Asia. For news and information, visit www.vistaoutdoor.com or follow us on Twitter @VistaOutdoorInc and Facebook atwww.facebook.com/vistaoutdoor.