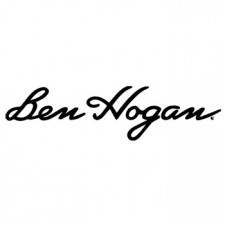 (FORT WORTH, TEXAS: October 29, 2015) – The Ben Hogan Golf Equipment Company today announced the launch of its proprietary WedgeFit™ personal wedge selector tool. The simple and quick online engagement draws from an extensive database of iron model specifications to precisely recommend the Ben Hogan TK15 wedge arrangement that will ensure optimum distance gapping for any golfer.
Created for golfers, PGA professionals and custom club fitters, the innovative WedgeFit™ system brings a new level of precision to the process of fitting golfers for matched wedges. Designed for players of all abilities, the WedgeFit™ system helps players and fitters determine the proper 'prescription' of wedges, including the right lofts, shafts and specifications to better optimize scoring range performance. WedgeFit™ can be found at http://www.benhogangolf.com/
"Very few golfers have the right combination of lofts in their scoring clubs," said Terry Koehler, President/CEO of the Ben Hogan Golf Equipment Company. "And even fewer are playing the proper shafts to optimize feel and performance to improve their shotmaking in the 'money range'. The WedgeFit™ System enables golfers to put the right tools in their bags to lower their scores."
Since its re-introduction to golf earlier this year, the 'new' Ben Hogan Golf Equipment company is acutely focused on innovative solutions to help golfers improve their performance with their scoring clubs, and the WedgeFit System represents the most accurate way to achieve that goal. "With the WedgeFit™ System, golfers now have the technology to ensure just the right set of wedges that will deliver improved trajectories, better distance control and optimum forgiveness," added Koehler.
The Ben Hogan TK15 wedges are the only high performance wedges in the industry that are designed to seamlessly integrate with any full set of irons. Through the new WedgeFit™ experience, and Ben Hogan's PreciseLoft™ system of offering every single loft from 48 to 63 degrees, golfers of all abilities will now be able to precisely blend their irons and wedges to ensure optimal gapping across the entirety of the set like never before. By having the ability to choose from 16 different lofts and an extensive shaft and grip selection, the Ben Hogan Golf Equipment Company can provide the most accurately custom-matched, custom built set of wedges set in golf.
About Ben Hogan Golf Equipment Company
The new Ben Hogan Golf Equipment Company was founded in April of 2014 to bring the vaunted Ben Hogan brand and its legendary standards back to the golf equipment industry. Based in Fort Worth, Texas, only a few miles from the original Ben Hogan facility, Ben Hogan Golf Equipment once again is focused on providing discerning golfers with the most accurate and precise equipment available. The new Ben Hogan Golf Equipment Company senior management shares over 130 years of experience from the original Ben Hogan Company, including manufacturing, product development, sales and marketing. For more information please visit http://www.benhogangolf.com/