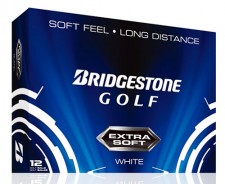 BRIDGESTONE'S NEW EXTRA SOFT BRINGS SUPERIOR CONTROL AND DISTANCE-PERFORMANCE TO THE GOLF BALL CATEGORY
COVINGTON, GA. — Bridgestone Golf, the #1 ball-fitter in golf, announced today the launch of its new Extra Soft golf ball. The Extra Soft builds off of the superb distance and feel golfers came to enjoy in the xFIXx model with an infusion of straighter ball flight and improved short-game control that can benefit all players.
The Extra Soft's 2-piece construction features a soft ionomer cover and soft compression core for maximum distance and control. The Extra Soft core is designed to be compressed more fully at moderate clubhead speeds and leads to a reduction in spin producing straighter shots off the tee and from the fairway.
In terms of aerodynamic performance, the Bridgestone Extra Soft features Bridgestone's patented 330-dimple pattern seamless cover, for the ultimate in flight consistency. The Extra Soft features a street price of $21.99 per dozen and is available now nationwide at Golfsmith stores, with wide retail availability beginning at all Bridgestone authorized retailers October 2015.
"We've seen increased distances off the tee resulting from the Extra Soft's core during both robot and amateur testing," said Adam Rehberg, Golf Ball Marketing, Bridgestone Golf, Inc. "For the money, you won't find a better feeling or more consistent golf ball than Extra Soft. It truly is a tremendous value for recreational players."
For more information on the current Bridgestone Golf ball line and to find the ball that fits your game, visit www.bridgestonegolf.com. There you will find variety of fittings aids: ball fitting event schedule, online ball selection guide and access to chat live online with expert Bridgestone fitting technicians.