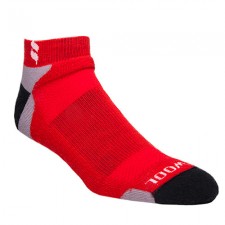 "World's Best Golf Sock" Now Available in Hues that Help Golfers Support Their Teams from Head-to-Toe!
GREENVILLE, S.C. — Just in time for football season, KENTWOOL, maker of the "World's Best Golf Sock," announced today that it is expanding the color offerings in its popular Men's Tour Profile socks model, with a new Game Day Collection. The Game Day Collection, a fun way for golfers to support their favorite college and professional teams on and off the course, will include these 14 color combinations:
Gridiron Green/Yellow
Glory Red/White/Blue
Palmetto Garnet/Black
Crimson/Grey/White
Columbus Red/Grey/Black
Garnet/Gold/Black
Black/Red/White
Navy/Orange
Navy/Yellow
Purple/Orange
Navy/Dome Gold
Burnt Orange/White
Blue/Traditional Orange/White
Carolina Blue/White/Navy
"Our golfers are also hard core college and pro sports fans," said Dan Murphy, president at KENTWOOL. "We want to give them the opportunity to show off their favorite team colors – in comfort!"
KENTWOOL's Men's Tour Profile socks are constructed from a proprietary blend of Super Fine Merino Wool and other natural and high-tech performance fibers. Each pair is infused with an innovative WINDspun technology to deliver unparalleled comfort, and is designed to reduce friction, abrasion and muscle fatigue. In fact, KENTWOOL is so confident in the comfort of its socks, the company offers a lifetime "Blister-Free Guarantee" with the purchase of every pair.
The new KENTWOOL Game Day Collection will be available September 28th through http://shop.kentwool.com/cart.php and at select retail locations. Fans can preorder their favorite teams' colors beginning today at http://shop.kentwool.com/Game-Day-Socks/. The Game Day Collection features a suggested retail price of $19.95 per pair.
Since 2008, KENTWOOL has been manufacturing the "World's Best Golf Sock." Drawing on over 150 years of mastery in wool manufacturing, KENTWOOL has leveraged the attributes of the natural "smart" fiber for unmatched comfort and performance in the sock category. For more information on the KENTWOOL brand, visit http://www.kentwool.com.
###
About KENTWOOL
Founded in 1843, KENTWOOL remains one of the nation's longest running, family-owned textile companies. In 2008 KENTWOOL Performance Division was established to utilize the parent company's nearly two-century-old heritage of superiority in textiles to create socks which draw upon wool's natural wicking and cooling properties for moisture management, sheer comfort and other performance ¬enhancing benefits. The "World's Best Golf Sock" was born. Since entering the marketplace, KENTWOOL has won two Majors on the feet of Bubba Watson and numerous other TOUR events, establishing itself as golf's leading, premium merino wool golf sock.
In addition to Watson, KENTWOOL socks are trusted in competition by scores of Tour stars, including Matt Kuchar, Ben Martin, Jonathan Byrd, Beatriz Recari, Ryann O'Toole, Peter Jacobsen, Duffy Waldorf, Brendon de Jonge, Tom Gillis, Jane Park, Kevin Johnson, Kristy McPherson, Shasta Averyhardt, Jenny Suh, Sarah Kemp, Jenny Gleason, Meaghan Francella and Jenny Hong.
Based in Greenville, SC, all KENTWOOL products are made in the USA. For more information visit www.KENTWOOL.com.