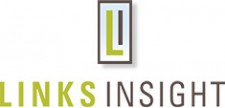 Cumming, GA, July 13, 2015… Links Insight, a provider of powerful business intelligence tools and meaningful education for public golf facilities, announces the hiring of three new sales representatives. Adrienne Biehl, Roger Cherico, and Karen Smith have joined the company as independent sales representatives.
Adrienne Biehl represents California and Nevada, Roger Cherico represents Georgia and North Carolina, and Karen Smith represents the Northeast. All three will support golf facilities in each of their respective territories, including Daily Fee/Municipal Courses, Golf Resorts, Multi-Course Owner Operators, and Management Companies.
"These three individuals are all well-respected sales representatives with proven expertise in the golf and resort industries, and we're very pleased to welcome them to the Links Insight team," said Kirk Pagenkopf, Co-Founder and CEO, Links Insight "With the addition of these reps, Links Insight is better able to provide exceptional sales and service support to our customers."
A lifetime golfer, Biehl started her career in the golf and sports marketing industry in 1995, as the Corporate Sales Manager for TaylorMade-adidas Golf in Carlsbad, CA. After that, Adrienne managed regional territories for corporate hospitality agencies such as DowEvents and TSE. Most recently she has worked with Srixon/Cleveland Golf in a consultative role, and continues to work in the sports marketing industry on various fan engagement/promotional programs though digital and sports activation agencies.
Cherico has been a PGA Member since 1997. After earning All-America honors at North Florida, he spent six years as an assistant professional at The Golf Club of Georgia, followed by three years at Hidden Hills Country Club & Fernandina Beach Golf Club in North Florida. He was then named Head Professional at Dunwoody Country Club in Atlanta. During his 13 years as Head Professional/Director of Golf, he was named 2008 GA PGA Merchandiser of The Year, served on The GA PGA Board of Directors, and was a PGA Magazine Travel Ambassador. After leaving Dunwoody, Cherico formed 7out Golf Events, facilitating Travel Pro-Ams both here and abroad for PGA members/apprentices and their members/clients.
With over 25 years in the hotel industry, Smith currently manages Highwire Marketing Consultants, LLC, a consulting firm specializing in hotel/resort marketing, need time sales, international and domestic tourism, and online promotions. Prior to that, she was the former Director of Wholesale Partnerships for LXR Luxury Resorts; the Director of Leisure Sales with Wyndham Resorts, Caribbean Division; the Director of Sales and Marketing for the Wyndham Rose Hall Resort and Country Club; and worked for Interstate Hotels and Resorts for 15 years in various group and director roles in Florida and New Jersey. She graduated from Florida State University with a BS in Hospitality Administration.
Links Insight is a subscription-based online management tool that provides a 360-degree view of key performance indicators at public golf facilities. The company captures critical metrics in individual golf facilities to provide them with the ability to analyze their business against their comp set, geographic market or the industry as a whole. The tools within Links Insight give context, relevance, and meaning to the data, giving facilities greater knowledge and greater control that ultimately allows them to manage their business using fact based analysis and benchmarking.
Subscribers to Links Insight can benchmark their own performance against the performance of all or some of the member clubs. Links Insight subscribers assess, manage, and improve the financial and operational performance of their own facility. Many think the goal of benchmarking is to ensure a facility is within the norms. The goal of Links Insight is to help subscribers understand the norms so they can take their facility to a new level.
For more information about Links Insight, visit www.linksinsight.com.
About Links Insight
Links Insight is a subscription-based online management tool that provides a 360-degree view of key performance indicators of your business. Links Insight captures critical metrics in your golf facility to provide you with the ability to analyze your business against your comp set, your geographic market or the industry as a whole.