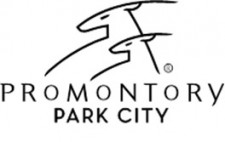 PROMONTORY UNVEILS NEW NICKLAUS COURSE CLUBHOUSE JUNE 20TH
Iconic Amenity Showcases Mountain Modern Architecture and The Peak Restaurant
Park City, Utah – June 16th, 2015 – The acclaimed design team that brought Promontory its national award-winning Shed Clubhouse has created a distinctive new golf clubhouse with approximately 16,000 square feet that is a fitting complement to the top-rated Promontory Jack Nicklaus Painted Valley Signature Golf Course.
Years in the planning, Promontory's stunning new Nicklaus Course Clubhouse blends breathtaking views and sophisticated comfort with championship golf, while offering a restaurant experience featuring the freshest cuisine, superb wine list and finely crafted cocktails.
Cutting edge architecture by John Sather of Swaback Partners in Scottsdale Arizona combines stone, glass and steel to fashion a quintessential icon for Promontory. Spacious dining decks overlooking the 18th green of the Nicklaus Course offer both sunny and shaded dining choices – all with panoramic vistas across golf course and lakes, toward Deer Valley's Bald Mountain. Interiors by Vallone Design, also of Scottsdale, create a luxurious and modern atmosphere in rich, handsome textures and a palette of pewter, taupe and azure hues.
"Since the inception of Promontory, we have pondered the right architecture that would be ideal for the Nicklaus Painted Valley Course," stated Francis Najafi, CEO of Pivotal Group and developer of Promontory. "A contemporary mountain feel emerged, with a bold design that would stand as a fitting tribute to the Wasatch Mountains."
The Peak, the new restaurant for the Nicklaus Course Clubhouse, is under the guidance of Chef Ben Cadiz, and will offer a menu of inspired cuisine with an Asian influence where seafood is the star. Beef, chicken and chop selections will also be offered, with an Asian flair. Signature and classic cocktails from the 1930s, 40s and 50s will be featured, complemented by striking contemporary interiors.
"The Peak features expansive dining decks with panoramic views of the Nicklaus Course and nearby Deer Valley," noted Rich Sonntag, Promontory Managing Director. "The sophisticated, yet relaxing interior decor will appeal perfectly to Promontory's discriminating membership."
The Nicklaus Course Clubhouse and The Peak restaurant will celebrate their Grand Opening on Saturday, June 20, 2015. For more information, visit www.PromontoryClub.com or call (888) 370-CLUB.
About Promontory
Promontory is a 7,200 acre, 10-square-mile recreational second home and private mountain community in Park City Utah, in the heart of the Utah Rocky Mountains. Promontory's unique mountain ranch setting offers diverse year-round amenities and activities for the multi-generational family. For more information, visit www.promontoryclub.com.
About Pivotal Group
Founded more than thirty years ago by CEO Francis Najafi, Pivotal Group is a diversified investment company primarily focused on real estate and private equity investments. For more information, visit www.pivotalgroup.com.