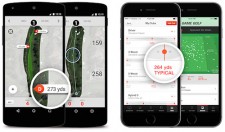 Download and Play The Free GAME GOLF Tracking App For A Chance To Win A Free Once-In-A-Lifetime Golf Vacation to Ireland
SAN FRANCISCO – (April 15, 2015) – GAME GOLF, the first wearable device that automatically tracks and graphically displays a golfer's round with valuable game data and statistics, today announced the new GAME GOLF Tracking App enabling golfers to track their game and club distances in real-time, and manage their game with a built-in GPS rangefinder, all from their iOS or Android device. No purchase of the GAME GOLF physical device is required to use the new App.
In celebration of GAME GOLF's newest free app and its Irish roots, the company is giving away a once-in-a-lifetime Irish golf vacation. Two players and one guest each, who post a minimum of three 18-hole golf rounds with either the GAME GOLF wearable device or the new GAME GOLF Tracking App from now through June 30, 2015, will be eligible to receive an all-expense paid golf trip to Ireland. For contest rules, log on to GAMEGOLF.com.
"If you don't truly understand your game it's hard to improve. The free GAME GOLF Tracking App allows golfers to see their shot performance in real-time, something which many amateur golfers will never have had access to before," said John McGuire, CEO of GAME GOLF. "Further, it affords everyone access to the GAME GOLF platform to gather stats, collect data and share their game with friends, family, coaches and instructors."
The GAME GOLF Tracking App can be downloaded and put in play just before teeing off. The App provides golfers with an aerial view of each hole, distances to key locations using the GPS Rangefinder feature, and the ability to "tag" each shot by selecting the club used. You'll be able to see – greens in regulations, fairway accuracy, scrambling percentage, putts per hole, club distances and more. Golfers can view their platform profile and data on their mobile device or at GAMEGOLF.com.
The GAME GOLF TRACKING App can be downloaded for free on iOS in the App Store or on Android at the Google Play Store.