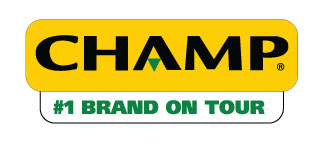 (MARLBOROUGH, MA) – CHAMP/MacNeill Engineering Worldwide – The World Leader in Sport Cleat Technology® and maker of innovative CHAMP spikes, high-performance grips, golf tees and accessories – announces new digi-camo color options for its popular C1 putter grip family, including the patriotic themed "Old Glory" and the bluegreen "Rain Forest."
The C1 line is made from an ultra-soft, super lightweight and great feeling polyurethane material. These new bold color options incorporate an updated reminder-notch pattern for unmatched control on the greens. Offered in medium and large sizes to meet the market's demand for thicker and more stable putter grips, the C1 virtually eliminates wrist break-down for a more repetitive and consistent stroke.
"Today's players are looking for equipment that looks good and performs even better," says Harris MacNeill, President and CEO of CHAMP/MacNeill Engineering Worldwide. "The new C1 designs hit that mark with bold style, great feel and game-boosting technology."
Starting at $15.99, the C1 from CHAMP has quickly become one of the more popular options in the jumbo grip category. With more than 100 active distributors, CHAMP is the world's largest manufacturer of replaceable spikes. The company is the dominant global brand in football, soccer, golf, baseball, cricket, rugby and other sports.
For more information: www.champspikes.com, 1-800-OK-CHAMP.