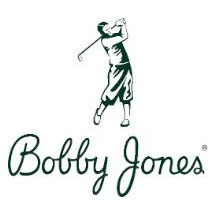 BOBBY JONES SPRING 2015 '1930 COLLECTION' BLENDS QUALITY AND STYLE TO HONOR THE GREATEST INDIVIDUAL ACCOMPLISHMENT IN GOLF HISTORY
Bobby Jones '1930' Luxury Lifestyle Line Sets a New Standard in Class and Comfort
Atlanta, GA- Bobby Jones, the leading purveyor of authentic luxury golf products for more than a quarter century, today unveiled its Spring 2015 1930 Collection for men. The collection blends stunning style with impeccable quality to deliver the ultimate in men's off-course apparel. The 1930 Collection offers wearers polos, woven shirts, sweaters, jackets, and trousers with top-of-the-line craftsmanship in a variety of striking colors and patterns that befit any connoisseur of excellence and comfort.
The Bobby Jones brand prioritizes luxurious sophistication and impeccable style in its 1930 Collection to pay homage to its namesake's legendary calendar year golf Grand Slam.
The core of the 1930 Collection is its assortment of captivating polos and woven shirts. Each piece is crafted with magnificent materials ranging from luxurious Peruvian Pima cotton to fine linen to double mercerized Egyptian cotton. The selection features:
· Soft pastel polos in stripe patterns available in shades of island pink, mint, or pacific blue, or the captivating light blue patchwork design (MSRP $125)
· Winsome plaid spread collar shirts available in jute, light blue, multi, purple, and teal hues (MSRP $125-165)
· Classic 1-piece collar shirts available in light blue, purple, summer navy dots, teal, and white (MSRP $165)
For cooler spring evenings, the 1930 Collection offers several eye-catching layering items. The Luxe Cable Crew Neck Sweater (70% cashmere/30% linen; MSRP $895) is timeless, attractive, and available in feather grey, island pink, mint, pacific blue, and pale purple. The linen Luxe Fairisle V-neck Vest (MSRP $195) emanates class, comes in a pleasing light sand pattern, and is appropriate for almost any spring ensemble.
The 1930 Collection pant options provide a perfect complement to the collections' best-in-class tops. The lively Oxford Embroidered Trouser (100% cotton; MSRP $185) is available in khaki and Oxford blue, and shows an appreciation for Southern culture and charm with attention-grabbing embroidered bowties. The Luxury Twill Pant (94% cotton/6% cashmere; MSRP $325), offered in khaki and white color options combines comfort, class and versatility providing a beautiful staple piece for any gentleman's spring wardrobe.
"Our elegant 1930 Collection is an appropriate homage to all Mr. Jones achieved in his impressive careers on and off the course," said Andy Bell, President/CEO of Jones Global Sports. "The pieces have all been designed to provide men of great tastes with sophisticated looks that Mr. Jones would have proudly worn for a variety of occasions today. The Bobby Jones brand has long been praised for its distinguished style, impeccable quality and unparalleled attention to detail, and this line takes those attributes to a new level."
The entire 1930 Collection will be available at retail beginning March 15, 2015.
For more than a quarter century, Bobby Jones has provided luxury men's and women's sportswear, including polo shirts, button downs, shorts, slacks and sweaters/knits to demanding consumers looking to exude a classy, cool confidence on and off the course. The Bobby Jones brand can be found at the finest golf clubs, resorts and haberdasheries in the world. For more information on the Bobby Jones brand, visit www.bobbyjones.com.