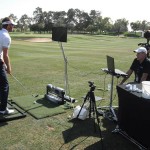 Program Ensures Players of All Skill Levels Receive the Necessary Tools to Enjoy the Best Golf of Their Lives in 2015
(Centennial, CO) – GolfTEC – the world leader in golf lessons – announces the launch of Training Camp, a comprehensive program devised to help players of all skill levels prepare for the 2015 season by improving every aspect of their game under the tutelage of the company's renowned coaches and proven technological approach to learning.
Training Camp is all about getting golfers ready during the pre-season, so they can start their season strong. During Training Camp, a free Swing Evaluation is included with purchase of any Training Camp package. A typical program includes a Swing Evaluation, 10 Private Lessons, 18 hours of Video-Based Practice and a TECfit club fitting. Offered at all GolfTEC locations throughout North America, sign up is available now through February 28, 2015.
On January 22, GolfTEC centers will host a special "Training Camp Open House" for the public between 6-8 p.m. local time. During the event, center coaches will give an overview of what the program is all about and provide useful tips to help attendees prepare for a breakthrough season. This will include an equipment analysis and preview of new products.
"So many golfers have plateaued when it comes to performance and are unsure how to take their game to the next level," says Brent Stewart, Vice President Creative Director at GolfTEC. "Through Training Camp we breakdown exactly what players need to work on and help them achieve their goals. Everyone can make this a truly memorable golf year by allowing us to help them create a plan of attack."
Highly efficient and boasting a 95 percent success rate, GolfTEC lessons are taught one-on-one by Certified Personal Coaches in fully equipped indoor bays that utilize proprietary teaching technology.
Developing a comprehensive improvement plan for each student is the foundation of GolfTEC's philosophy.
Click here to learn more about Training Camp, the world leader in golf lessons or call 877-446-5383.
About GolfTEC
The world leader in golf lessons has a 96 percent success rate among its students. The more than 600 GolfTEC Certified Personal Coaches at nearly 200 centers worldwide, including nearly 80 within Golfsmith stores, have given nearly 5 million lessons since 1995. All lessons are based on the company's "Five Factors:" Fact-Based Diagnosis, Sequential Lessons, Video-Based Practice, Advanced Retention Tools, and Precision-fit Clubs. GolfTEC Improvement Centers can be found in almost all major U.S. cities, Canada, Japan and Korea.