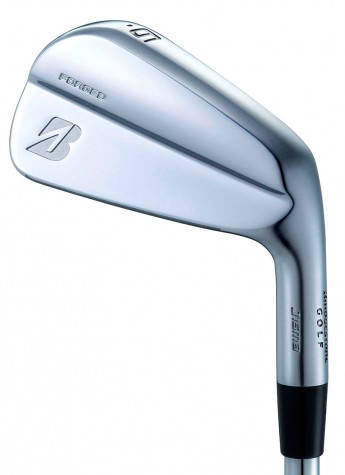 Covington, Ga. — Bridgestone Golf, the #1 ball-fitter in golf and a recognized industry innovator, will unveil its new J15 family of forged irons at the 2015 PGA Merchandise Show. The J15 forged iron options continue Bridgestone's tradition of offering the best-performing, precision-engineered irons in clean and classic designs with cutting-edge technologies guaranteed to enhance the iron play of a wide range of players.
"Bridgestone has had a cult following since we first introduced the J33 forged irons a decade ago, largely because of our clean, classic designs and Japanese precision engineering," said Josh Kinchen, Golf Clubs and Accessories Marketing Manager, Bridgestone Golf, Inc. "We have maintained that heritage and incorporated some really innovative new technologies that will make this our best performing and deepest offering of premium forged irons ever."
The J15 forged iron family is comprised of 4 models each designed for very different players, but all featuring Bridgestone's new Sure Contact Sole. Sole heel shaping is integral to producing the desired turf interaction players want because this is the first part of the club that contacts the ground. Keeping this in mind, Bridgestone engineered each of the four J15 forged models with a heel sole that is unique to each club within each set. Furthermore, all sole heels have now been integrated into the forging process ensuring unparalleled consistency and alleviating the problem of inconsistent hand finishing techniques. Below are more specifics about each model:
1. J15MB Muscle Backs
· Constructed of premium Carbon Steel for superb feel
· Ultra-compact head design affords maximum shot shaping workability and versatility
· Bridgestone's narrowest and flattest Sure Contact Sole ensures optimal contact and increased turf interaction for aggressive swingers
· Played on Tour by Davis Love III
2. J15CB Cavity Backs
· Constructed from premium forged Carbon Steel for incredible feel
· Compact head design provides tour-level control and shop shaping capability
· Wider Sure Contact Sole ensures consistent contact and turf interaction with added forgiveness better players can appreciate
· Played on Tour by Matt Kuchar and Brandt Snedeker
3. J15DF Driving Forged Irons
· Compact two-piece premium forged Carbon Steel design for ideal balance of feel and forgiveness
· Utilizes a hidden, hollow cavity between the front and rear of clubhead to provide incredible repulsion for more distance and relocation of discretionary weight to perimeter for added forgiveness
· Mid-Round Sure Contact Sole ensures better control and forgiveness
4. J15DPF Dual Pocket Forged Irons
· Constructed from premium forged Carbon Steel for incredible feel
· Utilizes a Turbo Rubber Design that allows saved discretionary weight to be moved to perimeter for increase forgiveness and higher M.O.I. while enhancing feel at impact
· Mid-size head shape provides Tour control while offering confidence inspiring appearance at address
· Wide, rounded Sure Contact Sole allows for consistent contact and turf interaction with minimal resistance and added forgiveness on off-center hits
Each of the J15 Forged Iron models come standard with True Temper® Dynamic® Gold DG Pro shafts and will be available in 3-PW. The standard 4-PW sets will feature a street price of $789 for J15MB, J15CB and J15DPF, while standard set for J15DF will be available at $879. The J15MB, J15DF and J15DPF will be available in right-hand only models, while the J15CB irons will be available in both right-hand and left-hand versions*.
The J15 irons will be available February 1, 2015 at specialty golf shops and through www.bridgestonegolf.com.
*Left Hand CB J15CB irons available April 1, 2015.