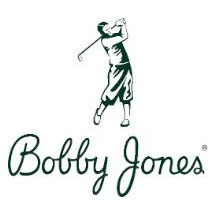 BOBBY JONES MERGES DESIGN EXCELLENCE AND UNBEATABLE COMFORT IN NEW COLLECTION OF SPRING 2015 XH2O PERFORMANCE POLY POLOS
Golf's Premier Luxury Brand Delivers Elegant Performance With New XH2O Tops
Atlanta, GA – Bobby Jones, the leading purveyor of authentic luxury golf products for more than a quarter century, today unveiled its Spring 2015 collection of performance knit polo tops. The Spring 2015 XH2O line from Bobby Jones offers the timeless design and precise detailing that have become trademark of golf's premier luxury lifestyle brand, integrated into performance garments that provide ultimate moisture wicking function, UV protection and breathability.
The complete Spring 2015 XH2O Performance line — 11 unique styles of polo shirts —not only successfully delivers incredible water management capabilities and knit design to ensure peak performance on the course, but also serves as a go-to staple item for everyday wear. Every piece features a blend of Polyester and Spandex for quick drying, UV protection (UPF 15) and an anti-microbial shield. In order to complement golfers' athletic movement during their swing motion, Bobby Jones precisely tailors into the shirts' design shoulder-to-shoulder stretch taping and incredibly durable performance yarn.
"The XH2O line is one of my favorite areas of our Spring 2015 collection because it is what I believe Mr. Jones would wear if he were competing today," said Andy Bell, President/CEO of Jones Global Sports. "Anyone who has studied golf history knows Mr. Jones, while a gentleman, was a fiery competitor on the course. He would never have ceded anything he believed to be a competitive advantage to the rest of the field, including performance and flexibility in his apparel. We've designed our line to answer the call for elegant, sophisticated performance golf apparel that can facilitate the best round of your life on the course — and, importantly, still afford great styling for your dinner engagement that evening."
Complementing the classic elegance of the Spring 2015 XH2O Line, design innovation is introduced through the inaugural Tailored Fit Collection. Tailored Fit shirts are crafted with care offering a shorter sleeve length, higher armhole and tailored muscle width, more fitted body width and shorter body length. The new design not only provides individuals with a trimmer more tailored look, but also with less excess fabric for a cleaner swing every time.
Highlighting the XH2O 2015 Spring Line are four specific types of polo – Performance Poly Pique, Club Stripe, Performance Poly Jersey and the Micro Stripe.
The XH2O Performance Poly Pique (available in Tailored Fit) utilizes its 92% Polyester/8% spandex construction to increase the shirt's capability to expand and spring back without losing its integrity, round after round.
The XH2O Performance Poly Pique boasts 23 vibrant spring colors to satisfy a wide array of color preferences: Black, Cambridge Red, Cerulean, Classic Blue, Ember, Emerald, Flag Red, Grape, Green Grass, Kelly, Key Lime, Lemon, Light Blue, Marine, Nantucket Red, Pale Pink, Pine, Pineapple, Raspberry, Salmon, Sapphire, Summer Navy, and White.
The XH2O Club Stripe Club Stripe features a distinctive 3-button placket and a striped pattern for a timeless look. The garment is available in Tailored fit and totes 12 vivid color options that bring a modern flare to a traditional piece: Black, Ember, Flag Red, Grape, Green Grass, Key Lime, Marine, Nantucket Red, Pine, Sapphire, Summer Navy and White.
With impeccable sport design, the XH2O Performance Poly Jersey is equipped with a tailored collar and a blended poly/spandex construction to enhance breathability and comfort on the course. The garment is offered in a time-honored solid style of 15 striking shades making it a necessity for any suave golf wardrobe: Black, Ember, Flag Red, Grape, Green Grass, Key Lime, Lemon, Light Blue, Marine, Nantucket Red, Pale Pink, Pine, Sapphire, Summer Navy and White.
The XH2O Micro Stripe takes the Performance Poly Jersey to another level as it flaunts Jersey striping from collar throughout the body and is available in Tailored fit. The Micro Stripe is available in 12 top tier color combinations: Black, Ember, Flag Red, Grape, Green Grass, Key Lime, Lemon, Marine, Pale Pink, Pine, Sapphire and White.
All XH2O polo styles feature the signature Bobby Jones 3-button placket featuring the tonal player logo embroidery. The Bobby Jones Spring 2015 collection of XH2O polos range in price from $79.50-$89 depending on style, and are available at retail beginning January 15th.
For more than a quarter century, Bobby Jones has provided luxury men's and women's sportswear, including polo shirts, button downs, shorts, slacks and sweaters/knits to demanding consumers looking to exude a classy, cool confidence on and off the course. The Bobby Jones brand can be found at the finest golf clubs, resorts and haberdasheries in the world. For more information on the Bobby Jones brand, visit www.bobbyjones.com.