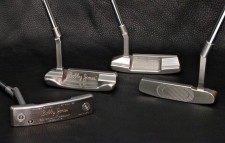 New Limited Edition Bobby Jones Putters Deliver Unrivaled Style, Performance and Customization Capabilities
Atlanta, GA – Bobby Jones, celebrating the iconic brand's 25th anniversary in 2014, today unveiled that it has entered into a strategic partnership with Dogleg Right, manufacturers and designers of elegantly styled, premium custom fit and custom made putters. Bobby Jones and Dogleg Right, both characterized by their products' premium quality and unparalleled attention to detail, will collaborate on a variety of limited edition Bobby Jones-branded putters in a multi-year, worldwide venture.
As part of the initial launch, Dogleg Right is designing and handcrafting three different series of putters, the Silver Anniversary, Grand Slam and Bespoke Art, that all pay homage to the game of golf's most decorated amateur. Each of the three series of putters offers innovative designs, patented and patent pending technologies (including adjustable weights, interchangeable necks, adjustable loft, lie and toe hang) and Dogleg Right's proprietary face mill patterns. These putters, look, feel and perform at the very highest levels, whether that means winning golf's greatest events, being the owner's favorite club in his bag, or a prized piece of any golfer's equipment collection.
"When you study the history of Bobby Jones, one of the many things that comes to light is Mr. Jones' passion for the science and art of club making," said Andy Bell, President/CEO of Jones Global Sports. "We've known since taking over the leadership of the Bobby Jones brand this was an area where we wanted to expand our footprint strategically. This expansion begins with putters and we're thrilled to partner with Dave Billings and Dogleg Right. They are putter experts and their commitment to custom design, performance, playability and world class service is readily apparent. We are proud that the first putters bearing Bobby Jones name in 25 years will be produced in partnership with the best in the business."
"Anyone who loves golf and loves the history of the game, can appreciate what an honor it is to be chosen to create a line of putters that lives up to the Bobby Jones' name," said Dave Billings, President/CEO of Dogleg Right, Corp. As Andy noted, Mr. Jones was a real pioneer of new technologies utilized to make superior equipment, and we are committed to continue that great tradition with this new venture. We are taking great steps to ensure that the models we've chosen to offer and quality of design and materials, all live up to the Jones' standard and pay homage to this great man, while also delivering the finest modern putting instruments available anywhere. Furthermore, our dedication to providing an unparalleled custom-fitting and custom-manufacturing experience for our customers is in line with the Bobby Jones brand's own high-standards of service."
The "Silver Anniversary" line, intended to celebrate the 25th Anniversary of the Bobby Jones brand, features modern classic designs that are crafted from "American Rustless" 303 Steel with an exquisite multi-faceted satin mist finish on the upper surfaces, hand polished soles and the finest custom options available. In addition the Silver Anniversary line putters come complete with Bobby Jones logoed grips, head covers and shaft labels. Prices start at $699.99 for each putter.
The "Grand Slam" line offers a series of 4 commemorative putters that honor Bobby Jones "Impregnable Quadrilateral" in 1930. The four timeless head styles are crafted from the finest metals, offer intricate custom options, and are completed with superb hand finishes. The Grand Slam models, GS-1, GS-2, GS-3 and GS-4 will come complete with Bobby Jones logoed leather grips, matching head covers and Limited Edition Bobby Jones shaft labels. The Grand Slam line of putters will be available in super-limited edition quantities with just 10 each of the first four styles available for purchase. Prices start at $799.99 per putter.
Finishing out the Bobby Jones Putters by Dogleg Right's initial launch is a series of "Bespoke Art" one-of-a-kind models. The Bobby Jones Bespoke Art pieces start as one of the models from the previous two lines and are transformed into a unique, one-of-a-kind putter by Master Designer and Maker, Dave Billings. Each Bespoke Art putter is made precisely to the customer's every specification and aesthetic preference, offering the finest in materials, performance technologies and expert craftsmanship. Each putter will include a Certificate of Ownership and notes and drawings from Dave to the owner. The initial Bespoke Art collection will be made up of 10 pieces total for Spring 2015 and will start at $1,499.99. Super exotic materials such as Stainless and Carbon Damascus, Mokume Gane and Titanium Damascus can be selected to make these timeless, one-of-a-kind masterpieces.
Bobby Jones putters will be available through Dogleg Right just in time for the Holidays. For more information or to place an order, please visit www.doglegright.com.
About Bobby Jones
Headquartered in Atlanta, Georgia, Jones Global Sports, a division of Waitt Brands, manufactures, markets and distributes elegantly styled men's and women's sportswear, accessories and performance golf equipment. Like its namesake, Bobby Jones products are the definition of class, using only premium quality materials to create classic, timeless designs that exude confidence on and off the course. The Bobby Jones brand has been a mainstay in the golf industry since the 1990's and celebrates its 25th Anniversary in 2014. Bobby Jones is sold in the finest private clubs, resorts and golf courses worldwide. For more information visit www.bobbyjones.com.
About Dogleg Right
Headquartered in Plano, Texas, Dogleg Right manufactures, markets and distributes the finest custom made, custom fit putters in golf, utilizing patented and proprietary custom fitting, adjustability and performance-based technologies. Dogleg, celebrating it's 20th anniversary in 2014, uses state-of-the-art, in-house manufacturing, premium materials and world renowned craftsmanship to provide the ultimate in custom made and custom fit putters to it's customers around the world. Dogleg Right's putters, marketed under the MACHINE brand, and now the world renowned Bobby Jones brand, are proudly Made in USA, and can be found at the finest custom fitters, private country clubs, resorts and golf courses worldwide. For more information visit doglegright.com