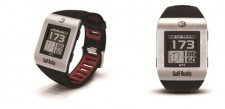 New York, NY October 24, 2014 – GolfBuddy, a leading innovator in the golf GPS industry, has launched the newest addition to its convenient and wearable GPS line, the WT4. The sleek and dynamic device sheds the often bulky golf GPS frame without sacrificing functionality. The WT4 has been in high demand by retailers and customers since it was first revealed at the 2014 PGA Show this past winter. Available in stores and online this September, the WT4 is guaranteed to improve your golf game with accurate and precise course measurement, as well as refine your look as a fashionable and functional wristwatch.
The WT4 incorporates the supreme functionality of the WT3 into a slimmer, more stylish design that allows for a more comfortable wearing experience, and an unencumbered swing.
Remarkably light and easy to wear, the WT4 features all of GolfBuddy's advanced features including Dynamic Green View, pin placement information, and full target and hazard information.
The versatile and powerful device boasts a 14-hour battery life in GPS mode and a 20-day battery life in watch mode. The WT4 also features analogue and digital watch modes, including time, date, and stopwatch functions.
The WT4 is complete with more than 37,000+ pre-loaded verified golf courses worldwide, offering superior accuracy. Featuring GolfBuddy's Automatic Course & Hole Recognition technology, the WT4 device always knows exactly what course and hole you're playing on. The Digital Scorecard feature can be used on any of the 37,000 + pre-loaded courses. The WT4 has a maximum capacity of 40,000 courses.
Suitable for everyday wear, the GolfBuddy WT4 boasts a subtle yet elegant color scheme of black and grey, accented in red.
Like all GolfBuddy products, the WT4 is 100% fee-free with no annual subscriptions or course download charges to pay after purchase.
The GolfBuddy WT4 has an MSRP of $299.
GolfBuddy is based in La Palma, Ca, with product development and course data management centers in Korea, one of the world's leading suppliers of high-quality electronic products. GolfBuddy has the most accurate course database with physically verified courses across the world.
For more information about GolfBuddy visit: www.golfbuddyglobal.com